Estimated read time: 2-3 minutes
This archived news story is available only for your personal, non-commercial use. Information in the story may be outdated or superseded by additional information. Reading or replaying the story in its archived form does not constitute a republication of the story.
Ed Yeates ReportingA very tiny baby made history in Salt Lake City 12 years ago. She was the lightest weight preemie ever cared for at Primary Children's Hospital -- holding that record even to this day.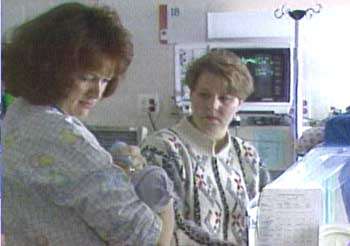 At her lightest weigh-in, little Jennifer Minarchik came in at a feather-like eleven ounces, twelve years ago. Under a strict definition of who lives or dies, she should have been one of those preemies who couldn't have survived without severe complications.
Her crying sounded like a little kitten inside a body smaller than a cabbage patch preemie doll. When she went home by Christmas of that year, she was wearing little doll clothes and doll booties. Her mother remembers well the prognosis.
Susan Minarchik, Jennie's Mom: "They told us there weren't very many survivors that small, and they told us she would have cerebral palsy or she would be blind or deaf - and just all sorts of problems. And there's been nothing wrong with her."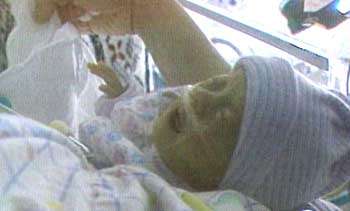 Milan Minarchik, Jennie's Dad: "It was incredible to see such a small baby to be born. Looking at her, how tiny she was, and wondering how you know even though she was perfect - you would see fingernails and hair and everything - but you worry - is she going to survive."
In a return visit from their home in Indiana, that 1992 prognosis is now only a memory. Tiny, tiny little Jennie isn't so tiny anymore. Her parents brought her from her home in Indiana, back to Salt Lake this weekend for a visit.
Jennie is now twelve years old. She's healthy, intelligent, an avid reader. She's read all of The Lord of the Rings, she's read the Harry Potter books, and she's learning how to play the cello."
Jennie can't remember how touch and go it was twelve years ago. She can only react now to what her parents told her it was like.
Jennie Minarchik: "I think it was kind of scary."
Petite, perhaps a bit shy, but as her dad says, a wonderful, beautiful, sharp little gal.
×
Most recent Utah stories