Estimated read time: 2-3 minutes
This archived news story is available only for your personal, non-commercial use. Information in the story may be outdated or superseded by additional information. Reading or replaying the story in its archived form does not constitute a republication of the story.
John Hollenhorst reportingThe family of a young man who's been missing for seven months made a plea to the public in Salt Lake today.
And they got a morale booster from a very high official.
This is a case that raises some troubling questions. WHICH missing persons should command our attention? And when someone goes missing... just exactly how is it decided whether they become famous... or are more or less ignored?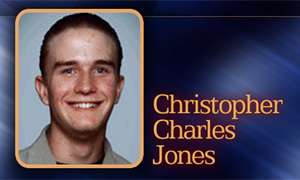 Elizabeth Smart became world famous when she was kidnapped. The intense publicity helped crack her case.
More recently, two out-of-state girls with ties to Utah got heavy media coverage here: Rachel Honsvick who disappeared on purpose in Ohio, and Brooke Wilberger, still missing in Oregon.
Those are among the reasons these people are so upset their loved one is still basically unknown.
Judy Woolf/Mother of Chris Jones: "I feel that my son has not received such attention simply because he is male, over the age of 18. And this is not fair."
Family and friends of Chris Jones gathered at the Salt Lake library, hoping to generate national publicity.
Governor Olene Walker showed up in a surprise show of support.
Judy Woolf/Mother of Chris Jones: "He's been gone 7 and a half months and we want him home real bad."
Gov. Olene Walker: "I can understand that. I can certainly understand the pain."
Chris Jones was 20 last October when he left his mother's home in Brigham City and vanished. She reported it to police the next day.
Judy Woolf/Mother of Chris Jones: "I was told when I did this that my son was not a missing persons because he was over the age of 18 and he could go and come as he pleased."
The family acknowledges there's a police theory Chris got mixed up with drug dealers.
Rich Wigginton/Brother of Chris Jones: "We believe he has met an unfortunate demise."
Still, in the absence of concrete information, who decides which cases bubble up to the top of public consciousness. Why is it usually missing girls that get the attention?
Gov. Olene Walker: "Irregardless of gender, there's a lot of pain when someone disappears with no reason, not trace for seven months."
What about the possibility that police would be overwhelmed if they intensely investigate ALL adults who leave home without explanation?
Rich Wigginton/Brother of Chris Jones: "Something needs to change if that's the case. Everybody's family is as important as the next."
He says there ought to be a public agency to help families in this situation, so they'd get more support from police and the media.
Meanwhile, they've raised 10,000 dollars for a reward.
A thousand of that was contributed by Brigham City Police.
×