Estimated read time: 2-3 minutes
This archived news story is available only for your personal, non-commercial use. Information in the story may be outdated or superseded by additional information. Reading or replaying the story in its archived form does not constitute a republication of the story.
Debbie Dujanovic ReportingSalt Lake police are promising to do something about gang shoot-outs. It's a reaction to last night's gang shooting in Liberty Park.
For starters, police today say they'll shift patrols around to have more officers in city parks this summer. The hope is that stronger police presence will keep gang members out.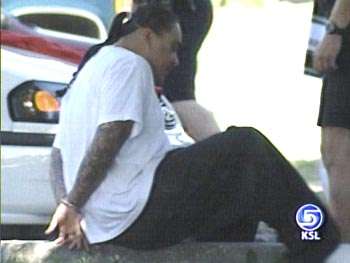 The shooting near the merry-go round happened so fast, officials were thankful no innocent bystanders got caught in the crossfire.
For the second time in less than a week, rival gangs shoot it out in public. Sunday afternoon at Liberty Park with hundreds of people enjoying the day two gangs bump into each other, words were exchanged, a 14-year gang member grabbed a gun from a 17-year old friend, and opened fire, shooting a rival gang member. Innocent people ran scared.
Another gang shoot-out last week in front of an elementary school left bullets lodged in the side of a house.
Police know it's scary and offer perspective – gangs, they say, generally target each other.
Detective Dwayne Baird, Salt Lake City Police Department: "It wasn't like they were shooting across the park or there were a lot of people in the line of fire. There was no one else in the line of fire. And the targets in this situation were just the rival gang members."
Statistically, gang violence is higher in Salt Lake City. According the Salt Lake Area Gang Project, Salt Lake P.D. reported 600 gang crimes last year ranging from two murders to 130 assaults. The Salt Lake County Sheriff reports 414 gang crimes. West Valley and Sandy also report a large number of gang crimes.
According to the latest reports, gang crime is up 22 percent valley-wide, and that's not including graffiti related offenses.
But police feel like they're making progress, using tougher federal weapons and gang charges to lock up hard-core gang members longer. In some cases they're using federal instead of local courts to extend sentences by 10 to 20 years.
Detective Dwayne Baird: "We don't want them back out here in a year, year and a half to get back to their gang activity. When they come out of those situations they're often very old people."
But there are always new, younger gang members. The 14-year old accused in yesterday's park shooting is still in custody today, facing attempted homicide charges, so is his 17-year old friend.
14-years old isn't young in the gang world. Police say sometimes they're initiated at 11 or 12.
×
Most recent Utah stories