Estimated read time: 2-3 minutes
This archived news story is available only for your personal, non-commercial use. Information in the story may be outdated or superseded by additional information. Reading or replaying the story in its archived form does not constitute a republication of the story.
John Hollenhorst ReportingJennifer Booth, Student: "Mr. Leonelli is by far the best teacher at Tooele, and the best coach."
There was an extraordinary public hearing tonight in Tooele as the community reacted to a videotaped sex incident involving members of the high school baseball team. The team's coach resigned as a result. That resignation was announced just today, although the coach is not implicated in the incident itself.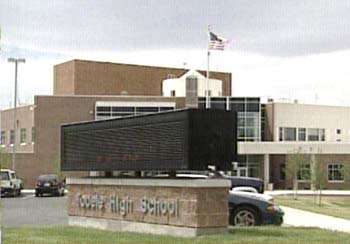 The incident has rocked Tooele High School, and it's clearly agonized many people in Tooele County. Tonight they packed into a school board meeting for a fiery, heartfelt meeting. The jammed meeting was sometimes tearful, sometimes raucous.
Most agreed Tooele's image has been burned.
Gary Steadman, Tooele County: "The alleged incident that happened in St. George has given Tooele High School and Tooele a huge black eye."
Details about the high school baseball players' misbehavior are sketchy, but police have been investigating a videotape, the mere possession of which could be a crime, according to the police chief, because it's child pornography. Members of the team allegedly engaged in sex acts with an underage girl at a motel where they stayed during a baseball tournament.
The resignation of coach Shanz Leonelli has divided the community.
Dave Maycock, Tooele County: "Why Shanz Leonelli was allowed to resign is beyond me. He should have been fired a long time ago."
Tom Poyner, Tooele County: "I've never found a finer example of a coach to teach my young sons baseball and the ethics that go with it."
Jennifer Booth, Student: "And these boys who did this, I know them, okay. They were bragging in the halls afterwards. There's no way he could have stopped it."
Various speakers blamed the coach, the school board, the boys themselves, the media, even the teenage girl. But many said parents, too, are responsible
Heidi Thomas, Tooele County: "If you want to be responsible for your kid, go on the trip, stay in the room with them."
Rhonda Larsen, Tooele County: "If your child as to be babysat, then don't have them in sports."
The police investigation is pretty well wrapped up and a report is likely to be delivered to the county attorney on Tuesday. We have been told prosecutors have already been assigned to pursue charges against four juveniles and two18-year olds.
×