Estimated read time: 1-2 minutes
This archived news story is available only for your personal, non-commercial use. Information in the story may be outdated or superseded by additional information. Reading or replaying the story in its archived form does not constitute a republication of the story.
Gene Kennedy ReportingA cabinet making plant in Preston, Idaho catches on fire and burns for hours.
Firefighters say the building contained a lot of fuel for the fire, like wood used to make kitchen and bathroom cabinets, and most likely lacquer, as well.
Plus, the building didn't have a sprinkler system. So when the Chateau Mill and Supply caught fire, smoke billowed out of the building for hours.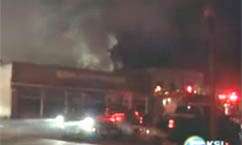 Firefighters are still trying to figure out what caused the fire. It began around seven o'clock last night, and was still going strong into our ten o'clock newscast.
Fire Marshall Scott Martin, Franklin Fire County District: "The first crews arrived. There're some roll up doors. There was heavy fire above the ceiling and attic area. This building had been remodeled quite a few times. There were three or four false ceilings-- a fireman's nightmare."
About 60 firefighters were called in from several Idaho and Cache County, Utah departments. Icy roads around the building created a hazard, as well.
Fire Marshall Scott Martin, Franklin Fire County District: "We had a few falls. We had one firefighter go to the hospital at Franklin County Medical Center for some smoke inhalation."
With all that smoke, firefighters had to evacuate the apartment complex next to Chateau Mill. Everyone got out safely, and then they watched smoke consume the building.
It's a total loss. And with the building gone, more than a dozen people are temporarily out of a job. Home remodeling projects will be sidetracked. So a lot of people are affected by what happened last night.
×