Estimated read time: 2-3 minutes
This archived news story is available only for your personal, non-commercial use. Information in the story may be outdated or superseded by additional information. Reading or replaying the story in its archived form does not constitute a republication of the story.
Ed Yeates ReportingA Utah invention could save airline, military and transport planes hundreds of millions of dollars in yearly fuel costs. The device is currently being tested on a model aircraft at Utah State University.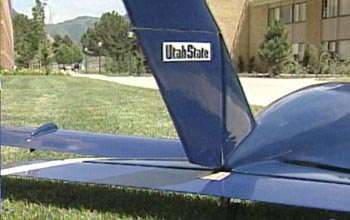 It may look like any other model plane competing in a national student contest, but this craft won first place, using flexible arms on the trailing end of the wings that reduced drag.
Want a demonstration of what drag is all about? Simply put your hand out the window while driving. Notice the force of the wind always pulling your hand back. If you lengthen out the hand, you reduce the drag. That's what you want in an aircraft.
Just as you twist your arm to reduce drag, this device called a Twisteron flexes up and down to do the same thing on a model plane. The device is a new invention from Utah State University aerodynamic engineers. Dr. Warren Phillips says computer simulations with the model plane show a 20 percent reduction in drag during dramatic turns and maneuvers, and a 12 percent reduction during level flying.
Though a big 750,000 pound passenger plane may see only a two and a half percent reduction, fuel savings could be enormous.
Warren Phillips, USU Aerospace Engineering: "In 2003, for example, in the United States we used over 15 billion dollars in jet fuel in commercial aviation. Even a two and a half percent reduction amounts to over 100 million dollars."
Unlike the rigid flaps currently used on wings, flexible twisterons could twist a lot or a little depending on altitude, weight and the speed of the plane. The potential is so promising, USU has filed for patents.
Steven Kubisen, USU Office of Technology Management: "We are talking something like five to seven years before you could see this in commercial airlines, but it could be significant in terms of royalties."
Engineers say if the technology works on planes, why wouldn't it work in sea going ships, which also could afford to save in fuel costs.
×
Most recent Utah stories