Estimated read time: Less than a minute
This archived news story is available only for your personal, non-commercial use. Information in the story may be outdated or superseded by additional information. Reading or replaying the story in its archived form does not constitute a republication of the story.
Amanda Butterfield reporting A Draper grandmother is in the hospital after being run over by her own car.
Draper Police say the 60-year-old woman was backing out of her garage earlier this morning, and after recently running over a bike, she wanted to make sure nothing was behind her. So she stepped out of the car to check, but left the car in reverse.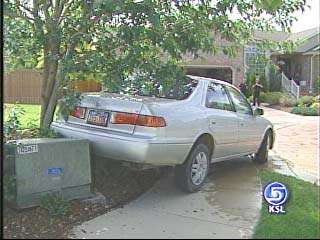 Police say that's when the car starting moving -- fast -- hitting the woman, and dragging her. Though it's unclear how far the woman was dragged, the car went about 30 feet in reverse before hitting a utility box and stopping.
It was the woman's son who spotted his mother lying on the ground, and she was able to talk.
Sgt. Mike Beesley, Draper Police: She attempted to get out of the way, that's what her son said, but was unable to do so, the car rolled over her."
The woman suffered serious injuries to her torso and leg, and was airlifted to the University Hospital in very critical condition.
Police say this is a good reminder for drivers not to get out of your while it's running... even if just for a moment.
×
Most recent Utah stories