Estimated read time: 2-3 minutes
This archived news story is available only for your personal, non-commercial use. Information in the story may be outdated or superseded by additional information. Reading or replaying the story in its archived form does not constitute a republication of the story.
Kim Johnson ReportingWilderness advocates are hoping to see a legal showdown between the BLM and San Juan County -- a showdown over the jeep jamboree, which took place last April 30th. Wilderness Advocates say participants, including county officials, broke the law, and they want the BLM to hold them accountable.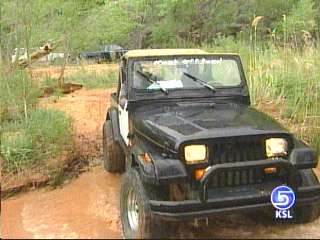 SUWA, the Southern Utah Wilderness Alliance, sent a letter today to US Interior secretary Gale Norton, as well as the head of the BLM locally. It urges them to formally investigate what it terms an act of open defiance of BLM authority on April 30.
On April 30th about 30 jeeps paraded through picturesque Arch Canyon as they've done for more than a decade. Only this year participants didn't have a special use permit, as required by the BLM. This San Juan County official says they didn't need any such permit.
Lynn Stevens, San Juan County Commission Chairman: "This is a San Juan County road and anyone in the United States is free to travel it any time they wish."
But the BLM says it has control of the road. In the past the agency has always granted the Jamboree's requests for permits. But it didn't issue one this year due to the discoveries of sensitive species in Arch Canyon and the need to study potential environmental impact.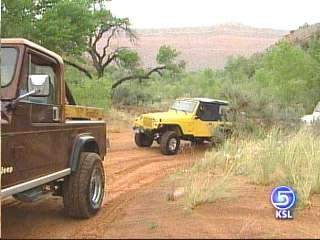 Don Banks, BLM Spokesperson: "There simply wasn't time to do the consultation with the fish and wildlife service. We then offered the group an alternative route that wouldn't have taken as much time to consider. Unfortunately, the group turned us down and we weren't able to take the alternative route."
Wilderness advocates say the jamboree willingly violated federal law, and that the BLM needs to stand up.
Heidi McIntosh, Southern Utah Wilderness Alliance: "They're treating the BLM like they're a 98-pound weakling at the beach. If they don't take action it's going to send the very strong message that the BLM doesn't take regulations and the need to protect these areas seriously."
BLM employees had cameras rolling April 30th, and insist they didn't turn a blind eye.
Don Banks: "We have been concerned about this. We've been researching all the details. We've been working with the U.S. attorney's office, and we'll come to a conclusion in the very near future."
The BLM recently revised its fine structure to a maximum of $100,000 for individuals who don't comply with special permit regulations, and up to $200,000 for corporations that don't. SUWA is hoping the BLM will use those fines in this case.
×