Estimated read time: 3-4 minutes
This archived news story is available only for your personal, non-commercial use. Information in the story may be outdated or superseded by additional information. Reading or replaying the story in its archived form does not constitute a republication of the story.
FORT WORTH, Texas (AP) -- Neither is flashy or particularly well-known despite their connections to famous quarterbacks and the success of their teams.
TCU's Andy Dalton and BYU's Max Hall are both third-year starters, two of the nation's most-underrated quarterbacks playing in the Mountain West Conference. All they do is win games.
At TCU, only Sammy Baugh has more victories as a quarterback than the 23 by Dalton, a junior who still has 1 1/2 seasons left to match or surpass the 29 that "Slingin' Sammy" had in the mid-1930 for the Horned Frogs.
"I've seen that stat, so hopefully I can keep winning. Hopefully, we can keep winning," said Dalton, who like Hall has lost only six games since the start of the 2007 season.
Hall, a senior and the nephew of former Dallas Cowboys quarterback Danny White, has 27 wins, two shy of the BYU-record 29 by Ty Detmer from 1988-91.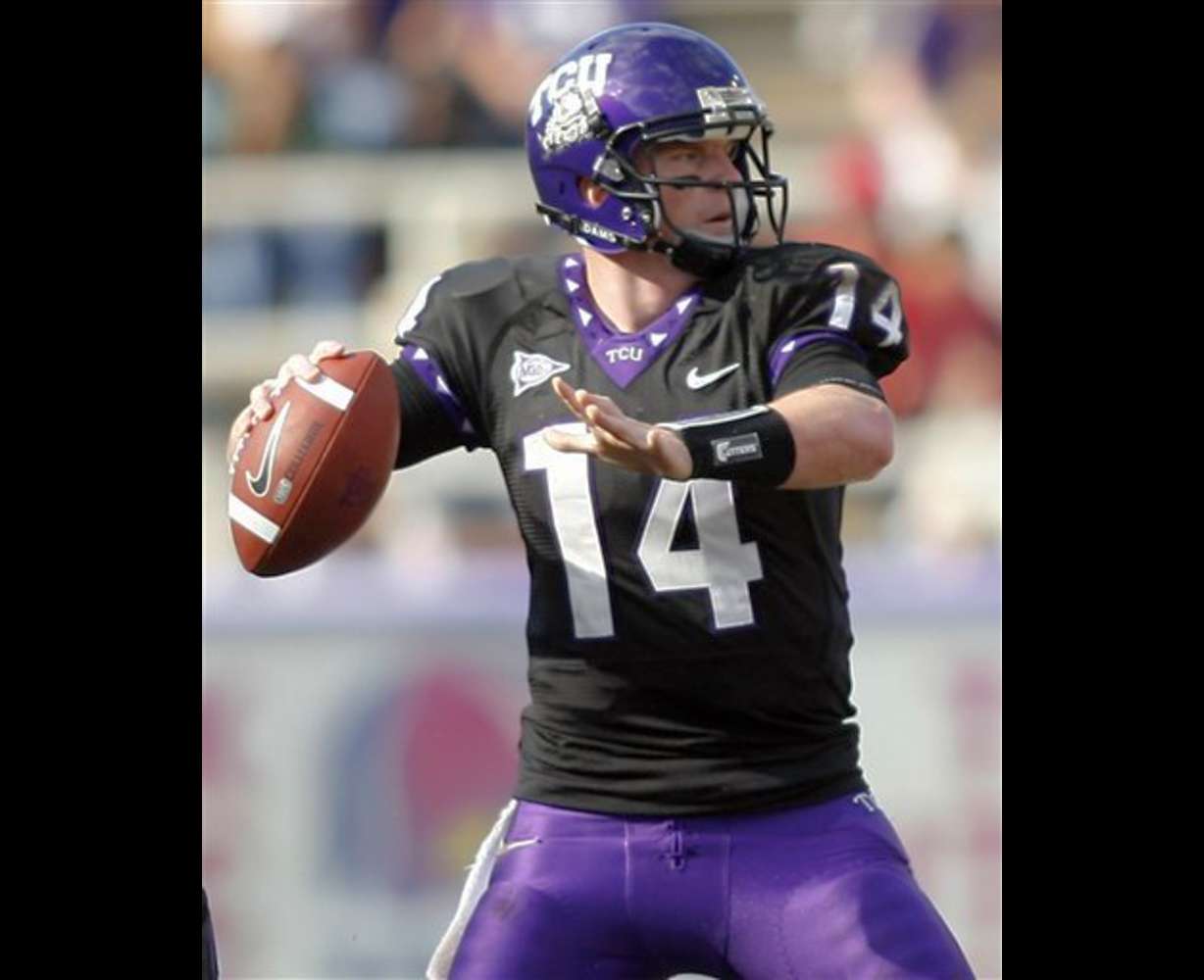 Only one can win Saturday night when 10th-ranked and BCS buster hopeful TCU (6-0, 2-0) plays at No. 16 BYU (6-1, 3-0), already a longshot for Bowl Championship Series consideration but still unscathed in the conference featuring three ranked teams -- the other is No. 19 Utah, which TCU and BYU play in November.
"It's going to be a good showcase for our conference and hopefully we'll gain some more respect," said Hall, referring to the teams, not just the quarterbacks.
Following in the line of guys like Detmer, Steve Young and Jim McMahon, Hall has at least two touchdown passes in every game this season, and is 126 yards shy of joining Detmer and John Beck as the only 10,000-yard career passers for the Cougars. Only Detmer (121), McMahon (84) and Beck (79) have more than Hall's 77 career TD passes.
"I'm playing well," said Hall, who has 2,069 yards passing with 16 TDs this season. "I don't know if I would say I'm peaking, but I have done some good things."
After throwing 10 interceptions the first five games, Hall has consecutive 300-yard games the past two weeks against UNLV and San Diego State without throwing an interception or being sacked.
One of Hall's worst games last season was at TCU, when was sacked seven times and threw two interceptions in a 32-7 loss that ended the Cougars' 16-game winning streak and took them out of the BCS race. But the Horned Frogs know how good Hall is.
"We have to find a way to keep Max Hall contained," defensive end Jerry Hughes said. "He knows the ins and outs of that offense. He's going to execute it perfectly."
Hughes, who has eight sacks this season, got four of his nation-leading 15 last season against Hall.
Dalton directs a balanced offense that averages more yards rushing than passing, 225 to 206. He is an efficient leader who could leave TCU as the school's most prolific passer -- his 5,924 career yards are second to Max Knake's record of 7,370.
"The game is a lot slower to Andy Dalton than it was two years ago, and maybe was last year the early part of the season," coach Gary Patterson said. "The other thing, he demands in the huddle. Not only in the huddle, but emotion in the middle of the week trying to get everybody riled up."
Dalton has completed two-thirds of his passes (93 of 142) for 1,223 yards with eight touchdowns and only three interceptions this year. He has a 78-percent completion rate after halftime, with six TDs and no picks, and also has 233 yards rushing on 57 carries, the second-most on the team.
"I'm a big motivator on the field. That's one of the my big things I've really focused on this year," Dalton said. "I try to let my actions really show what I'm about."
That has always been winning for Dalton, who started 11 games as a freshman and has already won two bowl games, earning offensive MVP honors in both.
"He's grown tremendously," said cornerback Rafael Priest, who has started all 45 games since coming to TCU in the same freshman class as Dalton but not redshirting. "He's showing all type of leadership."
------ AP Sports Writer Doug Alden in Salt Lake City contributed to this report.
(Copyright 2009 by The Associated Press. All Rights Reserved.)
×
Most recent Utah stories