Estimated read time: 2-3 minutes
This archived news story is available only for your personal, non-commercial use. Information in the story may be outdated or superseded by additional information. Reading or replaying the story in its archived form does not constitute a republication of the story.
Sandra Yi ReportingLinda Jensen: "I went here all through elementary and I was broken hearted when I heard it."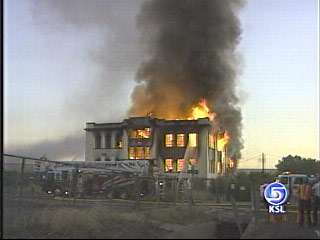 A piece of history in Magna was torn down today after it was destroyed by a spectacular fire. The old Webster Elementary School went up in flames this morning and investigators suspect arson.
What used to be Webster Elementary School is now only rubble. It was demolished this afternoon, leaving many in this community heartbroken.
Beverly, Magna Resident: "Me, my sisters, my brother, my aunts and my uncles all went there. It makes you sad. It really does."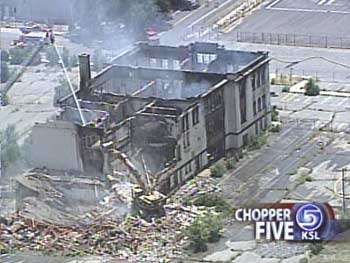 Webster was Linda Jensen's elementary school. She came to see it today, moments before it was demolished. She had hoped for a better fate.
Linda Jensen: "I'm very heartbroken and sad to see it go down this way. It would have been easier to see them taken down after they closed it, in that manner, than to see it happen this way."
The fire started this morning. Firefighters say within minutes, flames, some as high as 50 feet, consumed the building. Witnesses describe an amazing sight.
Witness: "It was totally awesome to me to see flames totally engulfing a building. I've never seen that before."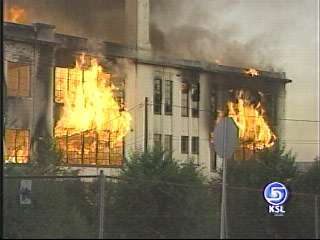 Witness: "The most amazing thing is watching the windows. Instead of imploding out, they imploded inwards as oxygen, I guess, was sucked out of the building by the fire."
Investigators don't think the fire is related to any other recent fires, but they do believe it's likely arson. That makes the loss even more difficult for this community.
Linda Jensen: "This is history. Why would someone do something this school that we all went to and participate in? It's a really sad situation."
Witness: "This is a building we wanted to preserve. It's something the neighborhood, the community wanted to preserve for generations, and it's not going to be here anymore."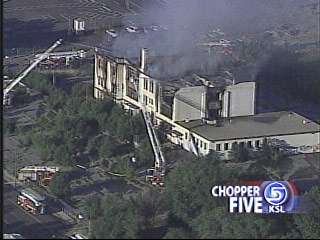 Webster Elementary School opened 96 years ago. The Granite School District leased the land from Kennecott. It decided to close the school in 1995 because it would have been too expensive to bring it up to code.
Some people in the community today were glad to see it go. They say it should have been torn down years ago.
Woman: "It's been sitting here empty for so long, it's been an eyesore. I think it's a childhood dream, everybody's dream to see their elementary school go up in flames, I guess."
Kennecott owned the building and was planning to turn it into apartments. No word on plans for the site now.
Police have arrested three people in connection with a fire, including two adults and one juvenile.
×
Most recent Utah stories