Estimated read time: 1-2 minutes
This archived news story is available only for your personal, non-commercial use. Information in the story may be outdated or superseded by additional information. Reading or replaying the story in its archived form does not constitute a republication of the story.
Kimberly Houk Reporting
Two bad crashes in the last 24 hours involving motorcycles have police with a familiar warning tonight. They want to remind us that these bikes are fast, powerful, fun to ride, and sometimes hard for other motorists to see. And as a result, especially this time of year, they can be very dangerous.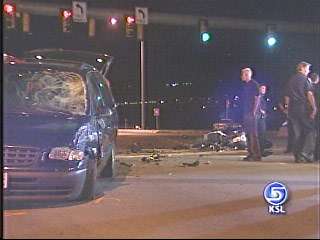 Police say two motorcycle drivers were at fault when they slammed into two vans in separate accidents coincidentally happening in the last 24 hours.
One of the accidents happened late last night in Draper. Police say a man riding a bullet bike ran a red light on Bangerter Highway and struck a van coming off of I-15.
Sgt. M. Beesley, Draper Police Dept.: "When approaching an intersection, slow down, make sure the intersection is clear."
Another warning was made by police yesterday after a woman driving a motorbike in Midvale hit a minivan with a family inside.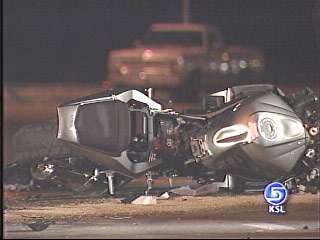 Sgt. John Salazar, Midvale Police Dept.: "Just have patience, you know – of course you can say that all day long."
Police say the female was headed south on 9th East and 70th South. She entered the emergency lane and t-boned the mini-van as it turned left. Nobody inside of the vans was hurt in either accident. But both motorcycle drivers were air-lifted to hospitals in very critical condition.
Police don't yet know if either was wearing a helmet.
Sgt. M. Beesley: "Clearly a motorcyclist has got to be wearing his helmet. And again, we don't know if this guy was wearing a helmet, it's in the preliminary stages at this point. But he sustained a massive head trauma."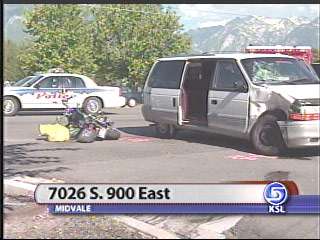 Police urge motorcyclists to wear helmets because they do save lives. However, wearing helmets is not required by law in this state.
×