Estimated read time: 3-4 minutes
This archived news story is available only for your personal, non-commercial use. Information in the story may be outdated or superseded by additional information. Reading or replaying the story in its archived form does not constitute a republication of the story.
PORTLAND, Ore. (AP) -- A man described by Portland police as a suspect in the disappearance of a 19-year-old Brigham Young University student from a Corvallis apartment complex is innocent, the man's father insisted Tuesday.
Sung Koo Kim, 30, is accused of stealing thousands of pairs of women's underwear from college dormitories in three Oregon cities. He was arrested Monday by Portland police on burglary charges and is currently being held in the Multnomah County Jail on $10 million bail, an unusually high amount in a burglary case.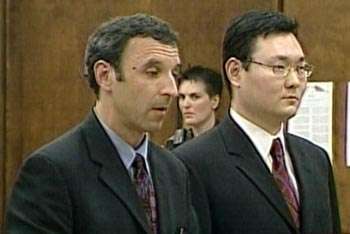 Kim was to have been arraigned in Multnomah County court Tuesday afternoon. But the arraignment was postponed, and his lawyer, Janet Hoffman of Portland, asked for extra time to negotiate his release from jail.
Hoffman and Norm Frink, the Multnomah County chief deputy district attorney, planned to negotiate release terms before Judge Kimberly Frankel, who originally set the bail. Frankel's office said a ruling would not come before Thursday, because of the judge's full schedule.
Kim's parents, Joo and Dong Kim, have taken turns posting a total of $178,500 bail to free him from his previous arrests in Benton and Yamhill counties. The couple, along with Kim's sister, looked on Tuesday during Kim's brief court appearance, but would not speak with reporters.
But earlier in the day, Kim's father told The Associated Press that his son has "a strong alibi. We are innocent. He is innocent, but it's not time to speak out."
Besides the underwear, when police searched the home Kim shares with his parents, they also found dryer lint that was labeled as being from the apartment complex where Brooke Wilberger was last seen before she disappeared on May 24, according to the affidavit filed in Multnomah County court.
In the affidavit, Detective Bryan Steed of the Portland Police Bureau refers to Kim as a suspect in the Wilberger case. But the affidavit also says there is "not probable cause" to charge Kim in the disappearance of Wilberger, who was visiting her sister when she vanished from a Corvallis apartment complex.
According to the affidavit, a search of Kim's computer by Newberg police yielded 40,000 pictures of women being tortured and raped. Newberg police also found videos of two women doing laundry at Concordia University in Portland. The women were unaware they were being watched.
Steed added that Kim's computer showed Internet searches for 10 female students and multiple searches for "non-extraditable countries." Also found on the computer was a file labeled "osu.doc," which listed activities involving the rape and torture of a woman.
Authorities in Corvallis say Kim remains one of four people "of significant interest" in the case.
But Hoffman, his lawyer, said there is evidence that places Kim away from Corvallis on the day that Wilberger vanished.
"We've provided substantial evidence that he was not involved with the disappearance in Corvallis," she said.
Lt. Ron Noble, a spokesman for the Corvallis Police Department, said Wilberger's family expressed concern at the contents of Monday's police affidavit.
"Overall, it is disturbing information," Noble said. "It's not pleasing for anybody to hear the types of photos and documents that Mr. Kim (allegedly) had on his computer."
(Copyright 2004 by The Associated Press. All Rights Reserved.)
×
Most recent Utah stories