Estimated read time: 2-3 minutes
This archived news story is available only for your personal, non-commercial use. Information in the story may be outdated or superseded by additional information. Reading or replaying the story in its archived form does not constitute a republication of the story.
Tonya Papanikolas ReportingA Roto-Rooter employee was sent to the hospital with burns today after a gas line explosion occurred in the company's parking lot. That in turn set off a fire.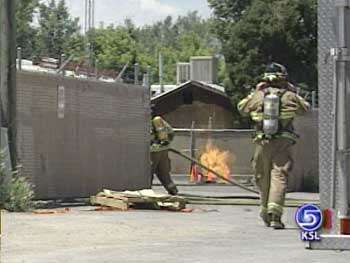 42-year-old Per Lindgaard was working on a water line in a parking lot utility pit. While he was working and digging he hit an underground natural gas line. The gas set off what fire officials say was a small explosion and then a fire.
Employees at nearby businesses heard and saw the commotion.
Alex Guanuna, Farid's Auto: "We heard, like something explode. Fire department came and told us to go outside the building because it was smelling gas and stuff, you know."
Victor Galindo, Victor's Tires & Custom Wheels: "I was scared. I saw a flame coming up about seven, eight feet high. I was worried cause the flames could have split and spread around and we got tires here. And tires are really hard, if they caught on fire, it's tough."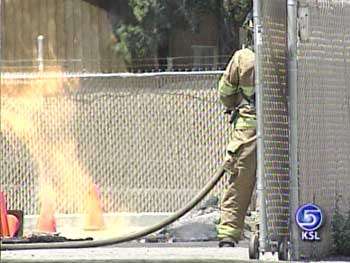 One worker who had been in the parking lot was burned from the fire. He had second-degree burns to both arms. He was taken by ambulance to University Medical Center.
The Salt Lake Fire Department came in and sprayed the area, but they didn't spray the actual fire. In a gas fire like this, crews work to spray the surrounding area and keep it cool so nothing else catches fire, and it doesn't spread. This also helps keep the workers safe.
Questar Gas Company then came in. With the help of a bulldozer and other equipment, they dug up the main gas valve and stopped it. That shut down the fire.
The fire department says any time someone is digging underground, they should call the Blue Stake Center. This is a call center that dispatches different utility groups to see what kind of lines are underground.
In this case they did make those calls. Utility companies came out and marked the ground where they had phone lines and also the gas line. It was marked in yellow so employees should have known where it was. It looks like it was either a mistake or an accident.
×