Estimated read time: 2-3 minutes
This archived news story is available only for your personal, non-commercial use. Information in the story may be outdated or superseded by additional information. Reading or replaying the story in its archived form does not constitute a republication of the story.
SALT LAKE CITY (AP) -- A computer teacher at Brighton High School in suburban Salt Lake City has been accused of soliciting sex from a 13-year-old girl over the Internet.
Scott Guymon Revill, 46, South Jordan, appeared in court Friday and faces federal charges of coercion and enticement for illegal sexual activity.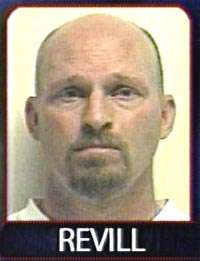 Revill is accused of chatting in an Internet chat room with an undercover officer posing as a 13-year-old girl, said a complaint filed by the U.S. Attorney's office.
The complaint said on several occasions in May and June, Revill described sexual acts he would like to perform and tried to set up a sexual encounter with her, the complaint said. Investigators said Revill described himself as a 23-year-old on one occasion, and on another occasion, 26.
Revill was arrested Sunday at Orem Junior High School around 10:30 p.m. where he thought he was going to meet the girl but instead met an officer.
Revill just completed his third year as a teacher in the computer lab department at Brighton High School, said George Welch, director of Jordan School District Human Resources. Revill was also a golf coach for the school, which is out for the summer.
The Jordan School District has placed Revill on administrative leave pending further investigation, said Welch, who added there have never been complaints of this nature against Revill during his time at the school.
It is not known where Revill taught before being employed by the Jordan School District.
According to the complaint, Revill faces federal charges because he was using Yahoo! to communicate, and the company is headquartered in California. Since any transmission from a person using Yahoo! is relayed through California, the sexually explicit communications traveled through interstate commerce.
If convicted, Revill could face five to 30 years in prison. Revill is expected to be in court Monday for a detention hearing.
(Copyright 2004 by The Associated Press. All Rights Reserved.)
×