Estimated read time: 1-2 minutes
This archived news story is available only for your personal, non-commercial use. Information in the story may be outdated or superseded by additional information. Reading or replaying the story in its archived form does not constitute a republication of the story.
SALT LAKE CITY -- New technology is going to change the way solo drivers pay to use the HOV lane on Interstate 15.
Rather than pay $50 a month to place a sticker on your car, UDOT says it will sell transponders for $30 up front. Those transponders then will be monitored for HOV lane use, and drivers will be billed accordingly.
"We don't know the rates yet, but it will be adjusting, depending on the level of congestion on the freeway," project manager Bryan Chamberlain said.
The fee will be posted on electronic signs above the freeway.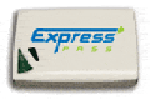 "Our goal here is to keep the lane moving to make it a more reliable trip for the people who choose to get in," Chamberlain said. "As it's more congested, people are willing to pay a little bit more, but with the price going up, it will keep people from using the lane."
Carpoolers (two people or more per car) will still not have to pay to use the HOV lane.
The technology comes with a $13 million price tag.
The electronic system will run from American Fork Main Street to Beck Street in Salt Lake City and from State Street in Farmington to the south Layton interchange. (CLICK HERE to see a map of Express Lane areas).
E-mail: aadams@ksl.com
×
Related links
Most recent Utah stories