Estimated read time: 2-3 minutes
This archived news story is available only for your personal, non-commercial use. Information in the story may be outdated or superseded by additional information. Reading or replaying the story in its archived form does not constitute a republication of the story.
Kimberly Houk ReportingFirefighters are still trying to figure out what caused a landfill in West Bountiful to go up in flames late last night. Today they explain why fighting landfill fires is dangerous.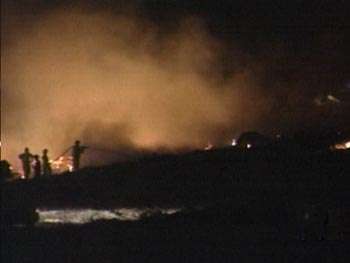 They're dangerous because of all the chemicals that are brought here. Employees do try to monitor closely the things that are allowed to go in the landfill. But when fires happen, something firefighters tell us is frequent, they can burn underground for days.
Huge flames shot high into the air around 10:30 last night as a roaring fire carried by the wind ripped through a landfill in West Bountiful. Firefighters worked for two and half hours trying to put the flames out.
Jim Rampton, South Davis Fire District: "The water that we were trying to use just was not very successful. It took these dozers behind us to move the garbage around and the dirt around to bury it."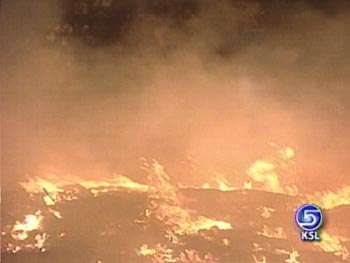 Police still don't know what caused the fire, but they speculate it had something to do with a recent drop off.
Jim Rampton: "This looks like the fresh dump area that they were dumping today in. Somebody brought something that was hot or through the process of spontaneous combustion something started."
And started big, within no time the tall flames could be seen from just about anywhere in Davis county.
Jim Rampton: "Big fire, lots of smoke going up, which made it worse due to the high winds. This fire spread through the dump area here - we figure we had one to two acres of fire when we first arrived."
Firefighters say they take extra precautions when fighting landfill fires. With the potential of explosions and the high wind, fire crews brought in the bulldozers early to bury the fire. But burying it doesn't necessarily mean this fire is out. They say this fire could burn the garbage that's buried deep in the ground for many weeks to come.
And that's why the bulldozers will continue to be used on a daily basis to keep turning the ground over there, until firefighters are sure the fire is out.
×