Estimated read time: 2-3 minutes
This archived news story is available only for your personal, non-commercial use. Information in the story may be outdated or superseded by additional information. Reading or replaying the story in its archived form does not constitute a republication of the story.
Samantha Hayes reporting A tense afternoon for rescue crews, after a hiker slipped and fell down a waterfall, landing on a small ledge.
The 19 year old hiker is at LDS Hospital tonight, suffering from back, neck and leg injuries. He was hiking with a friend in Rocky Mouth Canyon, located above Wasatch Blvd, at about 113th south.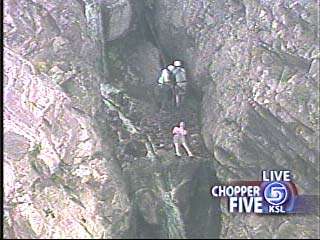 It is a beautiful time of year to hike, so often its easy to want to go a little farther, climb a littler higher to see the next best thing.
That was what 19 year old Travis Metzger was doing when he slipped on a rock, and fell 30 feet onto a rock ledge in the waterfall.
His back aching, and legs unable to move, Travis Metzger reached for his cellphone- and it worked.
Shane Hudson, Salt Lake County: " The victim himself called Sandy fire on his cell phone."
But it would be nearly two hours before rescue crews could get him down.
Darren Hunsaker, Search and Rescue Commander: "The water fall it tiered, so he fell from one tier to the other, the next tier was 150 feet."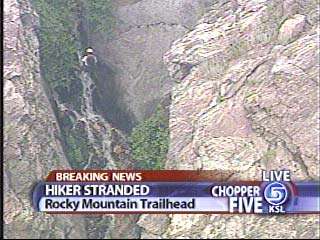 Three of the rescuers repelled down the waterfall, stabilized Metzger, and secured him to an orange gurney. The others worked a complicated rope and pulley apparatus to get him down.
Steve Achelis, Salt Lake County Search and Rescue: "The difficulty was it was such a technical area, it was so steep and required a lot of technical skill. A lot of rope actions. Four teams running ropes, a lot of radio communication in trying to have everyone deal with each other."
And at the same time trying to assess Metzger's condition and not do anything to make it worse.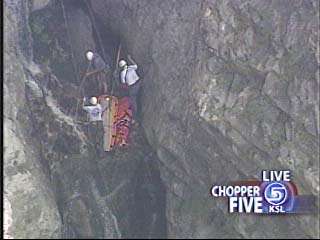 Steve Achelis, Salt Lake County Search and Rescue: "He was in the water, so one of the first things was we wanted to get him out of the water without increasing his injuries."
Once out of the waterfall, crews carried him down the quarter mile to the trail head where an ambulance was waiting with his father and friend inside.
Rescuers say this is an especially busy time for them. They warn everyone heading up into the mountains to be prepared and careful.
Steve Achelis, Salt Lake County Search and Rescue: "But be safe, because last 4th of July we had five calls out in 40 hours, its tough for a small group to do that many rescues."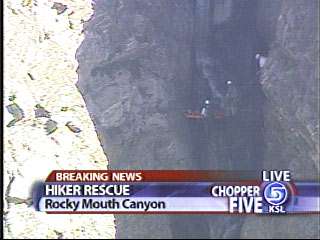 He also reminds everyone to take food and water, a change of clothes, and a cellphone, because it just might work, and hike with a friend.
×
Most recent Utah stories