Estimated read time: 1-2 minutes
This archived news story is available only for your personal, non-commercial use. Information in the story may be outdated or superseded by additional information. Reading or replaying the story in its archived form does not constitute a republication of the story.
Richard Piatt ReportingIn World War II a bomber pilot corrected a disabled plane and was the last to jump to safety before it crashed in Germany. First Lieutenant Warren McAllister's actions saved many lives that day, and today he received the Distinguished 'Flying Cross' medal, 60 years later.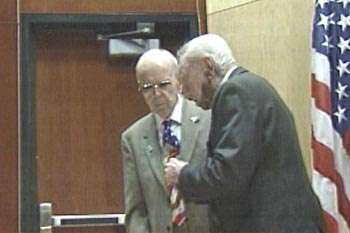 For so long it was hard for Warren McAllister to talk about his war experience. And it was hard for a lot of Americans to relate to the sacrifices of those who served. Both things have changed recently. America is once again at war, and McAllister can't help relating it to his own life.
Warren McAllister proudly wears the Flying Cross on his suit today. But he also carries an older souvenir—flack, or shrapnel; one of thousands of pieces that could have killed him in World War II.
McAllister was a pilot of the 'Flying Fortress, A B-17. It flew well he says, even riddled with bullet holes and flack.
Warren McAllister, Flying Cross Medal Honoree: "I could take a long time telling you stories of our missions. They weren't milk runs."
Sen. Orrin Hatch, (R) Utah: "He rushed back to the cockpit, straightened out the airplane, and then bailed out of the airplane less than 500 feet from the ground. He was hospitalized, but after only one week of recovery was back fulfilling the rest of his duties."
Warren McAllister: "We were one of the fortunate crews. But we were proud to be representing our country our flag and freedom for this country. And I'm sure we'd do it again."
×
Most recent Utah stories