Estimated read time: 2-3 minutes
This archived news story is available only for your personal, non-commercial use. Information in the story may be outdated or superseded by additional information. Reading or replaying the story in its archived form does not constitute a republication of the story.
Jed Boal Reporting The hiker who dodged death when he fell into a waterfall may have a long battle to recovery. But his family is grateful he's alive.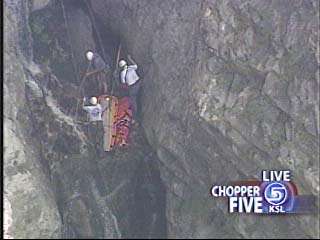 Travis Metzger of Draper is not a hiker and found out just how dangerous the mountains can be, when you make a bad decision. The teenager is in intensive care with a serious back injury.
Travis Metzger is upbeat and joking and his family says he's the kind of guy who can fight through this adversity. Whether he'll walk soon or never again they don't know. That's tough on the family, but at least he's alive. The dramatic two hour rescue of Travis Metzger from Rocky Mouth Canyon was agonizing for his family.
Darvin Metzger, Hiker's Father: "He's not a regular hiker, that was one of his first excursions into mountain climbing, and probably his last."
Metzger and his girlfriend weren't prepared for a hike; they were just going to play in the falls. Metzger scrambled to the top of the waterfall for a better view. As he edged over the falls he lost his footing and plummeted 20 feet. He hit a rock ledge, the momentum carried him over, and he tumbled another eight feet to another ledge.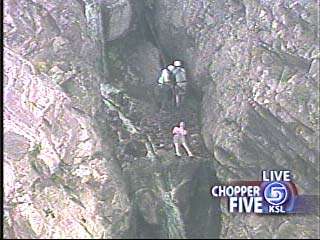 Darvin Metzger: "He was about a foot away from the next drop, which was about 120 feet to the rock. So he was a foot from death."
He rolled onto his back in the 40-degree water and couldn't feel his legs.
Darvin Metzger: "He thought he was going to die at first."
Metzger tells his father he pulled out his cell phone and called 9-1-1. The call was breaking up, but held together. Dispatch kept the injured hiker on the line until rescue crews found him a half-hour later
Darvin Metzger: "When he saw them up above he said he never felt such joy. He said, 'I see them,' and the dispatch lady cried."
Metzger's mother lives in California. She watched the rescue unfold on the internet..
Lori Lekvin, Hiker's Mother: "It was hard for me. I had to watch little video clips, seeing him laying there and I couldn't do anything."
The family is grateful to the rescuers. Metzger endured six hours of surgery on his crushed spinal cord. He has partial paralysis in his feet and a broken heel.
Darvin Metzger: "It brings tears to my eyes, every time I think if he's going to be able to walk again."
They'll have to see day to day how he develops. He's likely in for a long recovery. The family says they'll all face the challenge together.
×