Estimated read time: 2-3 minutes
This archived news story is available only for your personal, non-commercial use. Information in the story may be outdated or superseded by additional information. Reading or replaying the story in its archived form does not constitute a republication of the story.
Sam Penrod ReportingSparks from a bulldozer caused a fast moving field fire near Point of the Mountain, and the wind just about sent the flames into a brand new neighborhood.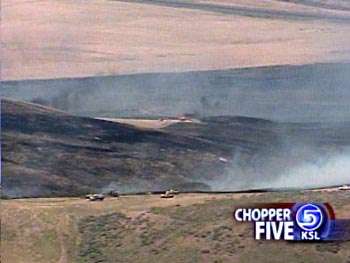 The fire is out, although crews are watching it closely in case the wind picks up again. But for a time this afternoon the fire burned dangerously close to homes and to the highway, a real firestorm of flames.
Andrew Smith aimed his video camera out the window as he sped away when a fire tornado, or vortex almost reached the road.
Andrew Smith: "The wind shifted and that's when it started going towards the road really fast and that's where I was filming and so I was trying to get out of the way."
Smith was filming the fast moving flames near his home. Police were forced to close the Alpine Highland highway because the flames got so close. Smith describes just how erratic the flames were, as they were fanned by the changing wind.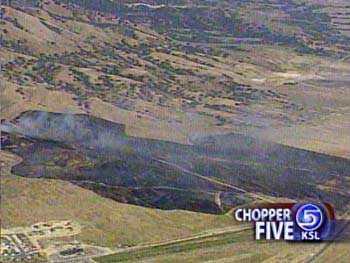 Andrew Smith: "It was almost scary looking, the way it was flying across that dry brush and literally with updrafts throwing burnt sagebrush 50-60 feet into the air, it was scary looking."
Firefighters estimate that more than 200 acres of dry grass was consumed in less that two hours. The fire burned within 300 yards of a several new homes in the Traverse Mountain development. Fire fighters were able to hold a fire line on the flames, despite the strong winds. And since it seems the wind is always blowing around Point of the Mountain, fire crews aren't taking any chances.
Dale Ekins, Lehi Fire Chief: "We're nervous about that so we are going so we're going to stay on it tonight, make sure the hot spots are out, so when it comes tomorrow we're not going to have another fire started."
And tomorrow it will be even hotter and drier than today, so the fire danger is getting worse.
There was no real damage from today's fire, although it cost several thousand dollars to fight.
×