Estimated read time: 2-3 minutes
This archived news story is available only for your personal, non-commercial use. Information in the story may be outdated or superseded by additional information. Reading or replaying the story in its archived form does not constitute a republication of the story.
Sandra Yi Reporting The Magna couple accused of chaining their son in a basement will go to trial for child abuse. Mark and Christina Gray maintain their innocence. Their attorneys say, when they chained their son to the basement, they were following the advice, of state agencies and law enforcement.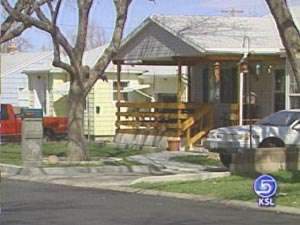 Jann Farris: "We think after a trial in this matter that those facts will come out and the Grays will be exonerated."
Christina and Mark Gray walked out of a court conference room this morning hand in hand. Their only comment, to talk to their attorneys.
Russ Hartill, Christina Gray's Attorney: "They are trying as best as they can to create a life of their own and the other children are in their custody, and they ask to be provided a normal life."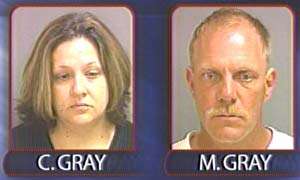 The couple is accused of abusing their 12-year old son. They allegedly chained the boy to a wall and starved him. A relative says they would also play the game 'Tic, Tac, Toe' on his face.
Alyce Johnson, Neighbor: "He was chained in the basement. I saw him chained in the basement."
Vicki White, Boy's Aunt: "He had to hide a couple of jars of peanut butter in the basement, so when he didn't get food he'd at least have that."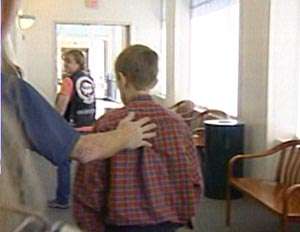 Authorities took the boy out of the home last fall. Today he faced his father and stepmother in court, testifying against them. His aunt, now his legal guardian, says despite his troubled past, his spirits are high, and he's shown a lot of courage.
Vicki White: "He's a very strong, very centered individual, and I think that he's going to get through this."
Members of the group 'Bikers Against Child Abuse' showed up to support the teen. They say once withdrawn, he's made remarkable progress.
The Gray's have five other children still in their home. Authorities say there were no signs they were abused. Still, it's a troubling thought for relatives.
Vicki White: "I feel that if one child is going through abuse and the other siblings are there seeing it, they're being mentally abused because no child should face that, ever."
Vicki White says her nephew is a good kid. She says he loves his dad and hopes they can sit down and talk someday.
Mark and Christina Gray are expected back in court, later this month.
×