Estimated read time: 1-2 minutes
This archived news story is available only for your personal, non-commercial use. Information in the story may be outdated or superseded by additional information. Reading or replaying the story in its archived form does not constitute a republication of the story.
John Daley ReportingA bizarre story out of Ogden as police search for a man who stabbed two young women. Police say they're outraged by this attack and are putting a "full-court press" on to try to find the man behind this knife attack.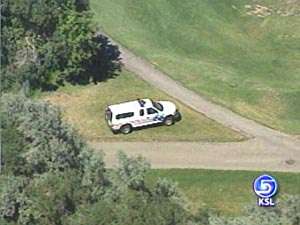 Ogden city police are looking for a man who attacked two women, aged 20 and 15, this morning. Police say the women were hiking on a trail with their mother near the Mt. Ogden golf course when the man confronted them and attacked them.
Both received what's described as non-threatening knife wounds--one was cut on the arm, another on the torso. One party of golfers came across the women--and took them to the clubhouse in a golf cart--from there they were taken to a hospital to be treated.
Randy Watt, Asst. Chief, Ogden Police Dept.: "At this point what we have is a random attack for an unknown reason. They're non-threatening wounds. They're up at the hospital and it looks like they will be fine -- as fine as you can be with this kind of thing."
Police describe the suspect as a white male, roughly 25 to 30 years old, blonde hair, blue eyes, wearing a gray sweat suit and gray stocking mask. Police say anyone with any information or who may have been up on that trail earlier today should call the Ogden Tip Line at 629-8108.
It's obviously a very scary situation. Police are calling it a random act and are searching for this suspect.
×
Most recent Utah stories