Estimated read time: 2-3 minutes
This archived news story is available only for your personal, non-commercial use. Information in the story may be outdated or superseded by additional information. Reading or replaying the story in its archived form does not constitute a republication of the story.
Tonya Papanikolas ReportingFire officials say lighting fireworks inside a car was not a smart move, whether the fireworks were illegal or not.
Two men were inside a car when the firework went off. One of them went to the University Medical Center. 24-year-old Adam Weber was taken there with second and third degree burns on his arms, legs and torso. He is in fair condition today.
He was a passenger in the car. The driver, Jared Williams, only had minor burns to his back. These young men were lucky; this incident could have been a lot worse.
After fireworks exploded inside a car pieces of ash lay on the floor, the seats and dashboard are burned, and part of the ceiling is torn apart. But the car wasn't the only thing burned. The firework went off in 24-year old Adam Weber's lap.
Sgt. John Barker, Salt Lake Co. Sheriff's Office: "He's gonna be in a lot of pain. I don't think it's life-threatening, but he's gonna have a hard time, it's gonna be a long process to get him healed up."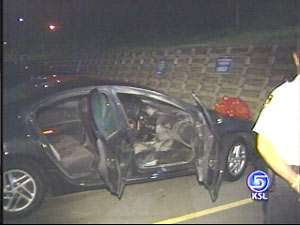 Weber was in the car with 24-year-old Jared Williams. Officers say they set off an illegal firework while they were driving.
Sgt. John Barker: "They lit a large mortar rocket firework, 'We're gonna throw it out the window. The passenger threw it out the window, but he forgot to roll the window down. It bounced back in his lap."
Scott Freitag, Salt Lake City Fire Department "Certainly not rolling your window down makes it stupid and illegal. So both of those put together is always a dangerous and maybe even deadly situation."
This may sound unusual, but it isn't the only fireworks accident that's happened inside a vehicle. A couple weeks ago in Florida, two men were throwing fireworks from their car when an ember ignited other fireworks in the back seat. That set the car on fire, killing one of the men and injuring another. The Utah case wasn't deadly, but it easily could have been with an illegal firework.
Scott Freitag, Salt Lake City Fire Department "Certainly not rolling your window down makes it stupid and: "They shouldn't have had that type of firework, no matter what. You never take them inside a car or inside a structure, anywhere where you could cause a fire or an injury."
Even legal fireworks should be lit outside on the concrete or asphalt. They should be at least 25 or 30 feet away from any building or car.
The sergeant with the sheriff's department told us alcohol may have been a factor in this case.
The investigation has been turned over to the Unified Fire Authority. Charges could be filed in the case; an officer told us it would likely be a misdemeanor charge.
×