Estimated read time: 2-3 minutes
This archived news story is available only for your personal, non-commercial use. Information in the story may be outdated or superseded by additional information. Reading or replaying the story in its archived form does not constitute a republication of the story.
Keith McCord ReportingThink you have what it takes to work for Donald Trump? Well, "The Donald" is looking for a few good men and women from Utah to be in the third season of "The Apprentice" on NBC.
"The Apprentice" folks are starting to audition candidates for the next season, which will air in January. They're going to 16 cities, and Salt Lake is their first stop.
So what would you do, to get a shot at working for Donald Trump? A U of U student we talked to came up with a quick presentation:
Stanton Huntington, U of U Business Student: "So I used my name, Stanton Huntington, and I thought naturally you take the "s" and the "h", and you have money!"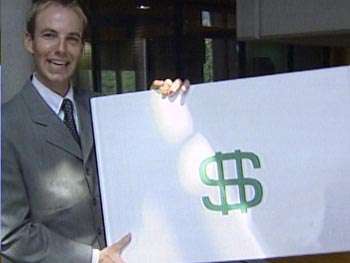 He also had T-shirts made for the casting associates who interviewed him; he's all about the money!
Another man, a second year U of U business student, flew in from Atlanta today just for the chance to be on the show.
Erin Bowen, U of U Business Student: "I am actually amazed by Donald Trump, and that's not an understatement. I believe he's the master of business of our generation."
As you can see, the sucking up has already begun.
Casting associates with "The Apprentice" are doing two interview sessions -- one today at the University and a second one will take place at the KSL studios tomorrow morning. About 100 students, former students, and full-time business people were interviewed today for a possible spot on the program.
Talia Williams: "It seems to be more about personality and kind of what you're looking for from the show, and how the show could benefit by having you on it."
Lizzie Lyde, BYU Business Graduate: "We were asked in our interview if we thought how important ethics were. And if we thought the females of the first season were ethical." Q-And your answer was? "Not at all!"
Thousands of people will be screened during the next few weeks, and then about 50 people will be called back for one final interview in Los Angeles in August. Taping will begin shortly after that. In case you're wondering-- if you make the show, plan to be gone for two months.
Shannon McCarty, Casting Associate "The Apprentice": "We're not saying this is a cakewalk. The apprentice is a difficult show. We're not going to starve you, but you're not going have to eat bugs or that kind of thing!"
Interviews at KSL begin at 9:00 Saturday morning. It's open to the public, but you have to be at least 21. And a tip-- the show is looking for "serious" business people.
×
Most recent Utah stories