Estimated read time: Less than a minute
This archived news story is available only for your personal, non-commercial use. Information in the story may be outdated or superseded by additional information. Reading or replaying the story in its archived form does not constitute a republication of the story.
(KSL News) -- A semi overturned just south of Heber this afternoon, spilling grapes across the highway.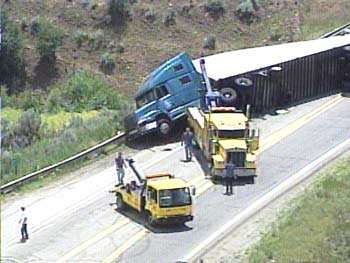 The semi, headed to the Bronx, was going north on US 189 when it hit a slight downgrade going too fast.
It left over 100 feet of skid marks, and flipped on its side, spilling red and white grapes all over the road.
Flying debris damaged another vehicle, but no one was injured.
×