Estimated read time: 5-6 minutes
This archived news story is available only for your personal, non-commercial use. Information in the story may be outdated or superseded by additional information. Reading or replaying the story in its archived form does not constitute a republication of the story.
Samantha Hayes, Richard Piatt, and John Daley ReportingAnother day filled with hope and prayers for a missing woman comes to a close and there's still no sign of Lori Hacking, and not much to pursue.
Thelma Soares, Lori's Mother: "We're devastated. Mark is heartbroken and devastated, and we all are."
Her family is hoping for a miracle following another full day of searching the hills of City Creek Canyon.
40 hours since Lori Hacking went missing. As time goes by the family is left to draw their own conclusions about what happened. Nothing was found after today's vigorous search. The family wants to interpret that as good news, that she may be alive somewhere.
Bright and early this morning volunteers answered a family's call for help.
Chris Pusey, Volunteer: "I know everybody's praying for her and hoping for the best."
With maps in hand and specific areas to search, more than a thousand people looked for any trace of 27-year old Lori Hacking.
Hereld Soares, Lori's Father: "I spent all night wondering if my little girl was wet. I wish I could find her and pitch a blanket or get a jacket and take her home."
Hacking disappeared Monday morning while jogging. Her car was found at the gates of Memory Grove Park. That vehicle and her husband's car were taken into police custody.
Some articles of clothing found in the canyon were collected for forensic testing, but the most important information, police say, may be found in a city dumpster.
Det. Dwayne Baird, Salt Lake City Police Dept.: "We did pick up a dumpster in the local area down here. Not certain what was in it. There was some indication our detectives were able to work on that there may be something there. "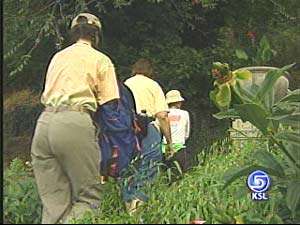 Lori and her husband Mark were married for five years and were expecting their first child. Mark and other family members were interviewed by police.
Douglas Hacking, Lori's Father-in-Law: "Answered truthfully all the questions. They have a wonderful marriage."
Without any convincing evidence, the family hopes she is still alive.
Thelma Soares, Lori's Mother: "We are trying to look positively and hoping she can be found."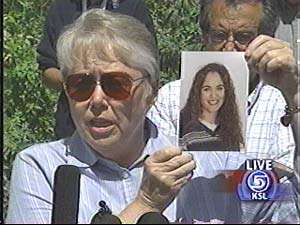 Lori Hacking works for Wells Fargo. The bank is offering a reward of up to $10,000 for original information resulting in her safe return. Lori's family is taking some comfort in the tremendous support they're getting from the community.
Police are estimating more than a thousand people have come forward to help search for Lori Hacking. That's an impressive effort, second only to the number of people who helped search for Elizabeth Smart two summers ago.
There were so many people searching--on horseback, on foot, individuals and groups--that one detective considered the lower part of city creek canyon thoroughly searched by mid-afternoon.
Kevin Joiner, Salt Lake City Police Dept.: "We appreciate every volunteer because we physically could not cover everything we need to cover."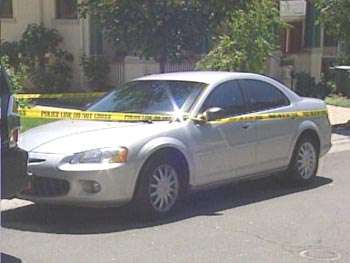 There are a lot of trained officers working overtime too. But so far the search efforts have turned up very little. All day, people volunteered to be part of a grid system, fanning out to nearby avenues and Capitol Hill neighborhoods. Craig Turner and his companion showed up, motivated by a sense of sorrow for the Lori Hacking's friends and family.
Craig Turner, Volunteer Searcher : "It's kind of scary. You never know what's going on. You want to help when you can I guess. It's tough."
Support for the volunteers was set up quickly. Shuttle busses carried people to Memory Grove. Food and water is plentiful. It is an organized search effort with expertise shared by the Smart family, gained during Elizabeth's ordeal.
Ed Smart, Daughter Kidnapped in 2002: "The support of the community was really what kept us going."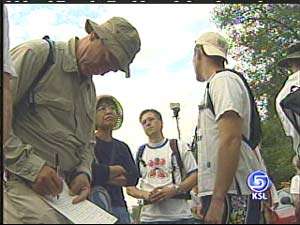 Support for the families is also coming in simple ways--hugs for Lori's mother Thelma from both friends and total strangers.
Janet Hacking, Mark Hacking's Mother: "We do appreciate them and we want them to know they make a difference, and we are going to make a difference and we will find Lori."
Tomorrow police are hoping to scale down the volunteer effort in the immediate area. Volunteers may be needed in other places, but the command post will be located somewhere other than the entrance to the park.
As volunteers search for Lori Hacking, detectives are investigating this mysterious case. The key thing police told us today is that they regard the disappearance of Lori Hacking as "suspicious."
Police say a witness saw Lori Hacking near the Memory Grove gate, stretching, preparing to go jogging about ten minutes of six Monday morning. Since then there's been no sign of her and more than a thousand searchers have found nothing concrete.
Dwayne Baird, Salt Lake City Police Dept.: "What we know now is that it appears to be suspicious in the sense that it doesn't give us any indication one way or the other where she is or where she's gone to."
In a routine procedure police have brought in the cars of both the missing woman and her husband, but neither turned up any red flags. Based on a tip, investigators are also inspecting a dumpster which was located between City Creek and the couple's home near the University of Utah.
Dwayne Baird: "Someone developed a lead through our detectives that it was possibly something that we'd want to look at, so we went ahead and picked it up."
And they're inspecting many pieces of clothing found by searchers, looking for a match to what Lori was wearing.
Dwayne Baird: "We found some items of clothing, so we are checking if they may have belonged to her and if they even belonged to a woman."
Other avenues police are pursuing include the interviewing of transients known to camp in the canyon, the search of criminal offenders in the state's database -- looking for any in the area with a history or potential of attacking adult women. Police are also comparing notes from an early-morning rape of a woman downtown a week ago, though police say they have no information connecting this case with any other.
×