Estimated read time: 3-4 minutes
This archived news story is available only for your personal, non-commercial use. Information in the story may be outdated or superseded by additional information. Reading or replaying the story in its archived form does not constitute a republication of the story.
Sam Penrod reporting"I hear everybody say get out, get out, so I just got out"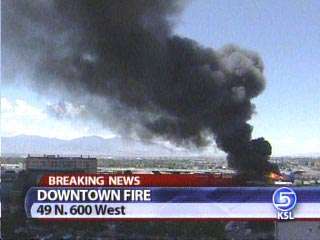 Another huge fire hits the Salt Lake Valley, this time a furniture factory and woodshop goes up in smoke, and everything is destroyed.
The flames broke out just after one this afternoon at the Jeffery Cobabe wood shop.
The blaze quickly grew into a four-alarm fire, as firefighters protected other nearby buildings.
Nine people were inside the building. They all of the got out safely. The fire was out of control almost immediately. And within minutes the building was completely destroyed.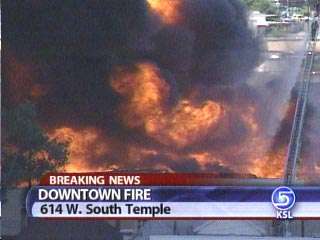 A raging inferno, that's the only way to describe the scene as the woodwork shop started to burn.
Dark black smoke went hundreds of feet into the air and employees who were inside ran for their lives.
Edwardo Franco/Jeffrey Cobabe Employee: "This guy went all the way to the back of the shop and see the fire coming out of the ceiling and he just say "Fire! Fire!"
John Jordan/Jeffrey Cobabe Employee: "The fire alarm started sounding. Guys tried to knock it down with the fire extinguisher. It started in the ceiling and it moved forward... So quick"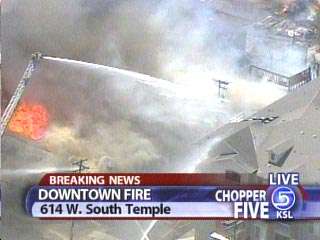 Firefighters got the call at 1:07. Several fire engines, including three ladder trucks and airport firefighters quickly arrived to the scene, but could do nothing but try and keep the fire from spreading in a full defensive mode.
There was no immediate indication from fire investigators that the blaze was suspicious.
"Until I talk to my investigators, I'm not determining anything at this time," fire department spokesman Dennis McKone said. That determination may not come until Monday.
The fire started in the ceiling above a new molding machine, which has a dust collector system, Jordan said.
Dennis McKone, Salt Lake City Fire Dept.: "We've struck a fourth alarm at this point so that gives us approx nine engines.....85 people on the scene at this time."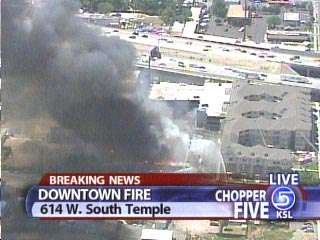 Witnesses said they heard explosions, and Jordan said there were five transformers blowing up in the building, about half a city-block wide and nearly 100 feet long, McKone said.
Residents were evacuated from the brand new Citifront apartments. Firefighters were able to keep the flames from the apartments as well as a steel facility and art studio.
The fire likely burned so fast, because the building itself was made of wood, along with almost everything inside.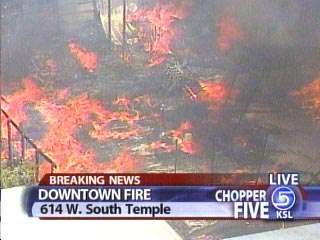 "John Jordan: It's full of wood, it's an old shop so it use to be the old Salt Lake mill, wood floor wood structure, sawdust, plenty of fuel for that fire."
Federal investigators and members of the FBI's Joint Terrorism Task Force were immediately sent to the scene.
"As with any major incident, which this is, from that standpoint it's pretty standard, any time you have that degree of fire and property damage," said FBI Spokesman Bob Wright.
Bureau of Alcohol, Tobacco, Firearms and Explosives agents also were on scene.
"Just two days ago we announced an arson at a large manufacturing business not far from that one," ATF spokesman Tom Mangan said. "Each fire is different. Who knows if this fire's mechanical in nature? We'll wait and see and let the evidence speak for itself."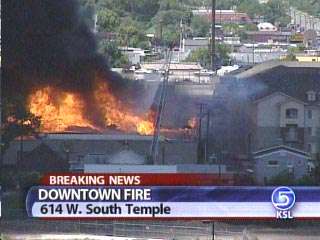 Besides building chairs, tables and desks for temples for The Church of Jesus Christ of Latter-day Saints, Jeffrey Cobabe and Associates also restored the woodwork after a fire damaged the Governor's Mansion in the early 1990s.
Damage is already said to be at least three million dollars to the wood shop alone. Owners are hoping that they will be able to rebuild.
(The Associated Press contributed to this story)
×