Estimated read time: 1-2 minutes
This archived news story is available only for your personal, non-commercial use. Information in the story may be outdated or superseded by additional information. Reading or replaying the story in its archived form does not constitute a republication of the story.
SALT LAKE CITY (AP) -- The owner of a downtown woodworking business destroyed in a $3 million fire has vowed to rebuild.
"The business is alive," owner Jeff Cobabe said. "Monday is another day of work, business as usual."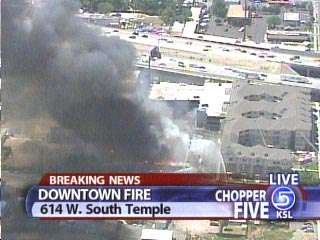 A four-alarm blaze Friday afternoon completely gutted Jeffrey Cobabe and Associates, a fine furniture maker that provides, among other things, furnishings for Mormon temples worldwide.
The cause of the fire is still under investigation, but a fire department spokesman said investigators didn't feel the fire was the work of eco-terrorists.
Last month, environmental extremists claimed responsibility for a $1.5 million lumberyard arson fire in suburban Salt Lake. On July 16, a $5.5 million, six-alarm fire destroyed giant rolls of paper outside a South Salt Lake warehouse. The fire at the Smurfit-Stone Container Corp. was arson, investigators said.
The Friday afternoon blaze sent thick, black smoke throughout the Salt Lake Valley. The fire briefly threatened an adjacent apartment complex and two smaller buildings but firefighters were able to keep the fire away from those.
There were about a dozen employees in the 120-year-old building, and all got out safely. There normally would have been about 25 employees at work but Friday was a Utah state holiday.
There were no injuries in the fire, which began in the ceiling and touched off at least five explosions that rapidly spread flames throughout the business.
(Copyright 2004 by The Associated Press. All Rights Reserved.)
×
Most recent Utah stories