Estimated read time: 2-3 minutes
This archived news story is available only for your personal, non-commercial use. Information in the story may be outdated or superseded by additional information. Reading or replaying the story in its archived form does not constitute a republication of the story.
Sam Penrod Reporting A woman is killed in front of her home when she is run over and dragged by a car driven by her elderly neighbor.
The 64- year old woman, who was deaf, was going to get her mail when she was hit and then dragged several yards. Police say the driver was an 87- year old man who is nearly blind and never should have been behind the wheel.
Police say the 87-year old man's driver's license was still valid. He was booked into jail and then released, after being charged with hit and run. But police warn the topic of elderly drivers is something every family should talk about.
Family and friends remember 64-year old Madge Snedeger as a loving and kind person. On Monday afternoon Snedeger, who was deaf, was killed right in front of her home.
Chief Jim Wilberg, Mt. Pleasant Police Dept.: "We believe she was walking down the road to get her mail from the mailbox. She probably didn't hear him coming."
Police say the 87-year old man driving a 1979 Lincoln hit Snedeger. He turned around and went back home after the accident. Snedeger was later found dead, lying in the middle of the road. Police say the driver is blind in one eye and has serious glaucoma in the other.
Chief Jim Wilberg: "With his sight problems, he probably didn't see her until it was too late."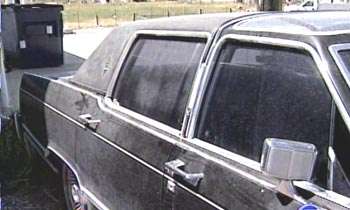 The suspect and victim were next-door neighbors and police acknowledge there was a history of disputes. But police do not believe it was intentional.
Chief Jim Wilberg: "We don't think it was anything more than just an accident."
The 87-year old man faces charges of hit and run, and prosecutors are evaluating if more serious charges, such as negligent homicide will later be filed.
Chief Wilberg: "In this case I don't think this gentleman should have been driving on the roads."
The funeral for Madge Snedeger is tomorrow.
A judge has ordered the 87-year old suspect not to drive anymore. He will be back in court next month on the hit and run charges.
×