Estimated read time: 2-3 minutes
This archived news story is available only for your personal, non-commercial use. Information in the story may be outdated or superseded by additional information. Reading or replaying the story in its archived form does not constitute a republication of the story.
Shelley Osterloh ReportingWhether you believe in luck or superstitions, they are entertaining to hear about nonetheless.
In many ways athletes are creatures of habit. They train and train so when the pressure is on, they automatically repeat that perfect form. Sometimes those habits become rituals and are accompanied by superstitions.
Look beneath the spectacular athletic performances -- is there a lucky rabbit's foot or four leaf clover? For some athletes, having a little extra help is comforting and calming; others like to go it alone and stay away from superstition.
Laura Berg, USA Softball: "I wear my nephews identity bracelet for good luck."
Lori Harrigan, Pitcher, USA Softball: "I do everything I can not to have them. So if I play a game and I throw really well, and I have certain socks on, I will purposely not wear them the next game to make sure that I don't get that in my head."
Laura Berg: "My older brother, he was in the army so I have his dog tags that I carry with me all the time and my sister's initial's are on my shoes."
Jenny Topping, Catcher, USA Softball: "Superstitions, no. Never been one for superstitious. I believe it's the way you prepare."
For athletes like Shane Hammon, just visualizing becomes a ritual before each competition.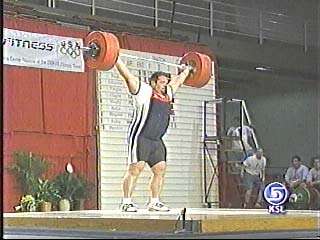 Shane Hamman, Weightlifter: "I definitely get into my mind, and I see myself out there competing, and getting that lift, and doing the lift. And I see myself making it every time."
Though few seem to take their superstitions seriously, many think a token adds extra luck.
Mari Holden, Road Cycling: I have a "little pin that I like to take with me to really important races. And uh, I got it at the last Olympics. Some kids from the schools made it for us."
Debbie McDonald, Equestrian: "I didn't think I was superstitious, but I live with a hockey family and they are very superstitious, so I guess I am. I have a pair of socks that I have found to be kind of lucky and hope the threads hold together through Athens."
×