Estimated read time: Less than a minute
This archived news story is available only for your personal, non-commercial use. Information in the story may be outdated or superseded by additional information. Reading or replaying the story in its archived form does not constitute a republication of the story.
(KSL News) -- A former political aide for Mike Leavitt spent Saturday night in jail this weekend. 54-year old Bob Gross was arrested after allegedly brandishing a gun at another driver on I-15. He was with his wife Kris at the time. His lawyer won't discuss specifics, but says Gross will be fully exonerated.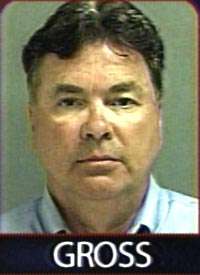 Attorney Larry R. Keller: "Kris and Bob were returning to their home from a wedding reception in Provo when they became unwittingly involved in an incident involving another vehicle on I-15 that soon escalated beyond their control."
Jail records show Gross was suspected of using a weapon in a fight or threat.
Gross was Leavitt's chief of staff for a brief time in 1997. This year he worked as a contractor in Iraq on programs to increase employment.
Gross was released from jail on Sunday. If charged and convicted, he faces up to a year in jail and a $2500 fine.
×