Estimated read time: 2-3 minutes
This archived news story is available only for your personal, non-commercial use. Information in the story may be outdated or superseded by additional information. Reading or replaying the story in its archived form does not constitute a republication of the story.
Ed Yeates ReportingHere's a sign of the times we live in now. Mark, Len and Grant soon may start using a new weather dial in their forecasts to show when it's not safe to breathe the air outdoors.
A lot of fresh air our here for now, but as we know, it's not always this way. And it's getting to be not always this way too often. Remember early this year when some schools were keeping kids indoors for recess? Trying to breathe polluted air outside while running and jumping was just not a good idea.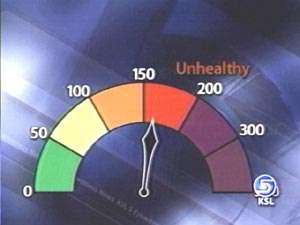 Now the State Departments of Health and Environmental Quality say it's time to give schools and others an easy to read measuring tool. Looking sort of like a grim applause meter, the new Air Quality Index Dial will tell whether to applaud or "boo" the quality of air outside.
But even more, the health department team, which is announcing the new alert system, says the meter is really designed to tell schools when to take shelter, so to speak.
George Delavan, M.D., Division of Community & Family Health Services: "To have children breathe less of the polluted air. We can do this by keeping children inside and avoiding exertion during times of high pollution."
When the pointer moves from green - where the air is healthy, to 100-150, level Orange, kids with sensitive lung conditions, like Jenny Tanner, who has asthma, are at risk. At school they should stay indoors.
JennyTanner, Wasatch Jr. High School: "Like last year, I had gym and I got pretty bad. Like I had to use my nebulizer when I got home because I was coughing so much."
When the dial hits 151 everybody should avoid playing or exercising outside.
Mindy Williams with the State Health Department says the meter for now will be available to schools via the internet. But eventually, she sees it becoming a routine icon in television weather forecasts.
×