Estimated read time: 1-2 minutes
This archived news story is available only for your personal, non-commercial use. Information in the story may be outdated or superseded by additional information. Reading or replaying the story in its archived form does not constitute a republication of the story.
Debbie Dujanovic ReportingFive children hit in five days. When vehicles and kids collide, the outcome is devastating. Now more neighborhoods are taking back the streets to keep everyone safe.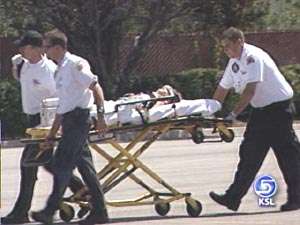 The latest accident involved a three-year old who ran out into a street at was hit by a car. Fortunately the driver saw kids playing and slowed way down.
It's painful to watch when medical teams rush a toddler to the hospital. Investigators say the boy looked one way before darting into the street. Driver Stacy Griffiths was coming the other way and hit him.
Stacy Griffiths: "That's the worst thing, when you hit a child. You could run them over and completely sweep them under the car. That didn't happen."
Deputies report the boy will be okay. Griffiths says with children around she slowed to ten miles an hour -- the limit there is 25. Traffic engineers wish more people would slow down.
Andrea Pullos, Salt Lake County: "People need to start paying attention, slowing down and realizing there's kids out there."
To slow the traffic flow more neighborhoods are petitioning for speed bumps. In Magna a hump has reduced speeds to 11-miles an hour, the average speed now is 24.
Across town in Holladay, the county says one's cut speeds by 28-percent. And the federal government reports the humps reduce car accidents an average of 13-percent.
Not every street qualifies, but Salt Lake County has nearly a hundred requests for neighborhood speed bumps. They can afford to retro fit four streets a year, so in the meantime…
Andrea Pullos: "I think we all need to take back our neighborhoods. Slow down, not only in your neighborhood, but everybody's neighborhood at the same time."
×