Estimated read time: 2-3 minutes
This archived news story is available only for your personal, non-commercial use. Information in the story may be outdated or superseded by additional information. Reading or replaying the story in its archived form does not constitute a republication of the story.
Sam Penrod Reporting"Dick Harmon, Deseret Morning News: "This is a serious offense they've been accused of, jail time, prison time if they're guilty. I think everybody here is taking it very serious."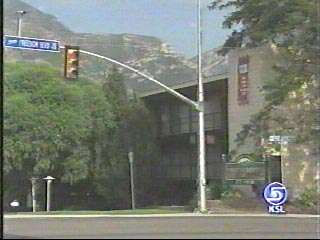 Scandal rocks the BYU football program. A 17-year girl accuses four football players of raping her after getting her drunk on Vodka. The football season begins in two weeks, but now it's a police investigation that is getting all the attention.
Neither police nor BYU has named the four players under investigation and none of them have been arrested or charged with any crime. And so far, no one on the team has been suspended.
By all indications, the players at the focus of this investigation are still on the team and were at practice today. But court documents spell out very disturbing allegations against the players that would chill any college campus, especially BYU.
It's another day of practice for the BYU football team. But instead of preparing for a season with high profile opponents, the school is trying to deflect tough questions about a criminal investigation.
Head Coach Gary Crowton refused to take any questions on the situation, but did issue this written statement: "Anytime allegations of misconduct surface regarding our players, it's a matter of serious concern for us. We want to get to the bottom of this and when we do, we will work with the University to do what is appropriate."
The 17-year old girl told detectives she met the men at the mall on Sunday August 8th and later agreed to come to an off campus apartment.
Inside she claims she was offered vodka to drink, which she later accepted. A pornographic DVD was playing on a TV and the girl told detectives that she later passed out and awoke to find herself undressed. She says she was raped by three or four men over a period of 20 to 30 minutes.
While this case involves only four players on the team, longtime BYU sports writer Dick Harmon sees it affecting the entire football program.
Dick Harmon: "You're seeing headlines, crawls across TV screens, and that impacts BYU's image. And they're very conscious of their image around here; they want to put their best foot forward and this is not the foot they want."
BYU says it's up to the athletic department to decide who plays on the team and who doesn't. But the university has made it clear that it is cooperating with police and that school's honor code office is looking into the allegations.
×