Estimated read time: 2-3 minutes
This archived news story is available only for your personal, non-commercial use. Information in the story may be outdated or superseded by additional information. Reading or replaying the story in its archived form does not constitute a republication of the story.
Richard Piatt ReportingGuns on campus – the issue is now in the hands of the Utah Supreme Court as a legal battle continues. There is a lot at stake for the University of Utah in this case. It is fighting to both protect students, and for the right to decide how to do that. It could come down to a debate over academic freedom.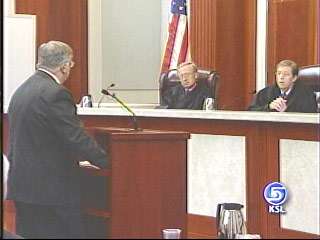 The Legislature says it has power over the University of Utah, bottom line. And that means the final say over money, curriculum, and whether to ban guns on campus.
Utah Supreme Court justices will decide on an emotional issue: guns on the U of U campus, and who decides the policy. For one U faculty member, there's a lot at stake.
John Flynn, U of U Professor of Law: "Listen, if this thing is not struck down, I'm leaving, as so many have done. And the university won't be a university any more, it'll get blackballed."
But legally, the high court's decision will boil down to a pretty simple issue.
Brent Burnett, Deputy Attorney General: "It's a question of whether the legislature has the authority to control the legislature. The position of Attorney General Shurtleff is, it does."
As has been the case for years now, the University of Utah sees it differently.
Alan Sullivan, U of U Attorney: "If guns are allowed on campus, debate will be stifled, students, and faculty safety will be compromised."
And, attorney Alan Sullivan argues, a University requires independence from the politics of the Legislature.
Alan Sullivan: "We think there's a real difference. There's a difference under the constitution."
On the U campus, a ban on guns has been in effect for about 30 years. That's in spite of direct orders--even recent laws from the Legislature requiring the ban be lifted. The Supreme Court's ruling will decide who has the power to ban or not. But sharp differences over the issue promise to outlast the ruling.
Clark Aposhian, Firearm Instructor: "If the firearm is concealed no one knows it's there, it's lawful self defense, it's not there to brandish if you will in a debate. That just doesn't happen."
Marla Kennedy, Gun Violence Prevention Center: "I'm currently a student up there, and I don't want guns up there and I certainly don't want the legislature telling me what I have to learn or what can take up there."
The Supreme Court will issue a ruling on gun ban issue later. But in the meantime, the University of Utah still bans guns on campus, contrary to state law extending rights to those with conceal-carry permits.
×