Estimated read time: 2-3 minutes
This archived news story is available only for your personal, non-commercial use. Information in the story may be outdated or superseded by additional information. Reading or replaying the story in its archived form does not constitute a republication of the story.
Tonya Papanikolas Reporting The first day of school at Copper Hills High School is proving to be very difficult and emotional for the students and faculty. Many of them are dealing with the death of their friend and classmate, Ryan Nielsen. Nielsen died over the weekend when a baseball he had pitched came back and hit him in the neck.
Many of the students knew about the accident over the weekend, but others just learned of it today. The principal made an announcement on the intercom so students would know exactly what happened.
They also brought in grief counselors to talk to the kids. The students and faculty say it's been a day of shock, confusion and extreme sadness.
Flowers wrapped in cellophane glisten in the sun as if to offer hope. They've been placed on the pitchers' mound at the school's baseball field, along with a white candle and sunflower seeds. They're a tribute to Ryan Nielsen.
Brian Samaniego, Classmate: "I can't believe what's happened. I come back from summer vacation and I find out this happened and my friend's gone."
Brian Samaniego says Ryan would help him with math. Others, like Ryan's baseball coach remember a hard worker who always wanted to achieve his goals.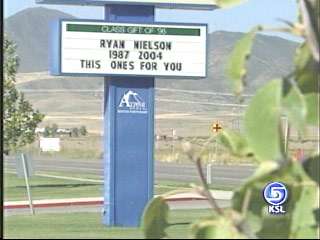 Nic DeLuca, Copper Hills Baseball Coach: "His buddy went off to college to play baseball - that was Ryan's dream and he was up working at his game."
On Friday, Ryan had come to the batting cages with a friend to practice. While he was pitching, a line drive hit him in the neck and killed him.
Nic DeLuca: "If you think about it, a season goes seven, eight months. You take a million and five swings and this doesn't happen. It just doesn't happen. And it's not right. It's not supposed to happen."
Tom Worlton, Copper Hills Principal: "It's an incredible thing for the entire school. He's part of the fabric of the school."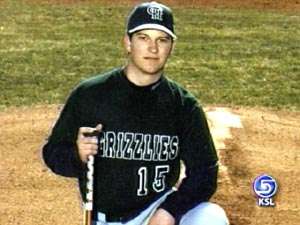 Two classmates spent their lunch on the baseball diamond, consoling one another as they looked at third base, where Ryan played. The sign in front of the school reads, "Ryan, this one's for you." Teammates are wearing his number - 15 - on a wristband.
Nic DeLuca: "Every kid handles different events in their own little way. And for the most part, their hearts are torn. And to be honest with you, I don't know how we're going to mend them. I really don't."
Coach DeLuca says the team is drawing support from each other. But everyone seems to be numb.
Nic DeLuca: "The hardest part for me is thinking about baseball practice. I mean, every swing of a bat and crack of a baseball, you're gonna turn your head and wonder if somebody's behind a screen and protected and stuff like that."
The Copper Hills baseball team has scheduled a vigil for Ryan Monday night. The candlelight vigil is scheduled for 8:30 pm Monday, on the Copper Hills baseball field.
×