Estimated read time: 2-3 minutes
This archived news story is available only for your personal, non-commercial use. Information in the story may be outdated or superseded by additional information. Reading or replaying the story in its archived form does not constitute a republication of the story.
Sam Penrod ReportingIt wasn't the real thing, but it sure looked like it today. Utah National Guard troops were called out for an unscheduled training exercise to protect the state from the possibility of a terrorist attack.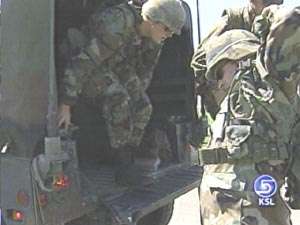 Today's drill affected hundreds of people, mostly off duty National Guard troops, and very few people had any idea about it until today. That was so it could be a test at just how fast emergency officials could respond to a terrorist threat, or even worse, a terrorist attack.
Salt Lake City HazMat teams responded to the city's water reclamation plant, with the report that a chlorine leak was sending dangerous levels of the gas into nearby neighborhoods.
Mike Stever, Salt Lake City Emergency Program Manager: "Whenever we do any type of exercise, we don't want it to be a demonstration of skills, but a challenge of how we can respond and think on our feet, respond to unusual or circumstances that change."
For 200 members of the National Guard, they were called after they had already gone to their regular jobs, and were told they were needed to report for active duty immediately.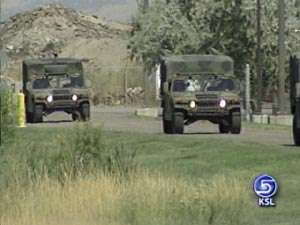 Sione Suliafu: "They gave us the word, notify your people this is not a drill. We had approximately two hours to get back to Spanish Fork."
Several National Guard troops were flown to a similar incident in Logan, while others patrolled Utah Power's Gadsby plant. Today the potential targets soldiers were sent to protect were utilities, but they are training for any type of call they could get.
Maj. Lorraine Januzelli, Utah National Guard: "Our soldiers' job is to work with law enforcement agencies with Salt Lake PD, where they should be to keep the public away from a danger zone."
Tonight, everyone involved in the drill will look at the successes and failures from today, to improve their response, in case the emergency ever becomes real.
"Mike Stever: "You can talk about it, you can plan for it, but until you actually put yourself to the test, real world, you never know for sure. We did well today and hopefully we never have to do it in real life."
What made today's training even more of a test is that it was intentionally scheduled when the governor and other top state emergency officials were out of town. Of course Governor Walker is at the Republican National Convention in New York, but she was kept informed of the progress of today's drill.
×