Estimated read time: 2-3 minutes
This archived news story is available only for your personal, non-commercial use. Information in the story may be outdated or superseded by additional information. Reading or replaying the story in its archived form does not constitute a republication of the story.
John Daley reporting A week after Salt Lake County Mayor Nancy Workman was charged with two felony counts of misusing public funds, the District Attorney appoints a special prosecutor.
The DA announced the move at a press conference this morning.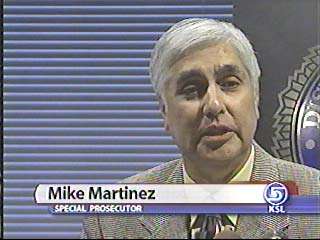 The Republican Mayor, her campaign and her attorney have all accused the DA, a Democrat, and his office of having political bias in this case.
Tuesday, the DA appointed a special prosecutor, attorney Mike Martizez. Yocom said with accusations like that, he had no other choice.
Hiring a special prosecutor will delay Workman's trial, and her attorney Greg Skordas says he's outraged at the request.
Skordas says Workman's right to a speedy trial has been violated, and a special prosecutor should have been chosen months ago.
But District Attorney David Yocom says he made the move for two reasons: One, Workman recently hired Skordas as her new attorney. He's a Democrat running for office, who used to serve under Yocom. Second, Workman unleashed a major ad campaign saying her prosecution was political.
Yocom says any appearance of a conflict required he hire a special prosecutor, and that a normal case of this kind could take a year to go to trial.
Mike Martinez, Special Prosecutor: "People aren't facing reality if they didn't realize that when the appearance of conflict was raised so directly, and so shrilly, and using tens of thousands in advertising, that they were going to have to withdraw from the case. Ethically, I don't think the District Attorney's office has a choice."
David Yocom, Salt Lake County District Attorney: "The only individuals that get a preferential setting under our system are the people that are in jail, awaiting trial. No one else in the system has preferential treatment."
Martinez now has complete authority and autonomy to handle the case, as he deems proper. He'll be handling the case in court as soon as this afternoon, when the next hearing takes place.
We'll be there and have the details tonight at 5.
×