Estimated read time: 1-2 minutes
This archived news story is available only for your personal, non-commercial use. Information in the story may be outdated or superseded by additional information. Reading or replaying the story in its archived form does not constitute a republication of the story.
Carole Mikita ReportingIt has been nearly a year since we reported that Roy Horn, of the famed 'Siegfried and Roy' team was attacked by one of his tigers. Horn has not granted an interview about his ordeal, until now; Maria Shriver got the exclusive. Her special airs tonight on Channel 5.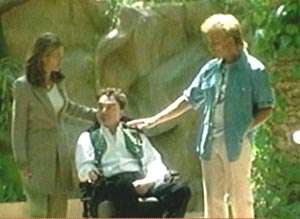 Maria Shriver says tonight's special was filmed over a period of several months, tracing Roy Horn's journey from what he calls an 'on-stage incident', his life-threatening injuries and subsequent stroke, to his on-going recovery.
The legendary 'Siegfried & Roy' spectacle ran for more than 13 years at the Mirage Resort in Las Vegas. Millions thrilled to Roy Horn's daring, athletic stunts with the white tigers, until last December.
Grabbed by the throat while performing, he nearly bled to death and suffered a stroke. Now, for the first time, he talks about his experience and his determination to live.
Maria Shriver: "When you find out what happened that evening, what Roy Horn went through, what Siegfried and Roy have gone through, it is a miracle."
Siegfried Fischbacher, Clip: "It was the most frightening experience of my life, you know, and frightening because you feel so helpless."
When asked if Siegfried and Roy believe they will perform again, Shriver said, " That is certainly a goal of theirs. They have a goal. Obviously, their first and foremost goal is for Roy to become independent again. They say they will and they don't know what it will look like or how it will take shape, but that is certainly a goal of theirs."
You can watch "Siegfried and Roy: The Miracle" tonight, on Channel 5 at 8pm.
×