Estimated read time: 2-3 minutes
This archived news story is available only for your personal, non-commercial use. Information in the story may be outdated or superseded by additional information. Reading or replaying the story in its archived form does not constitute a republication of the story.
(KSL News) -- It's a big day for KSL in Utah County. We're officially opening our new bureau, located in the Bank of American Fork building, near the University Mall in Orem.
KSL has had a strong presence in Utah County for more than 25 years now and now our new location there begins a new chapter with KSL's long running tradition of covering the news in Utah County.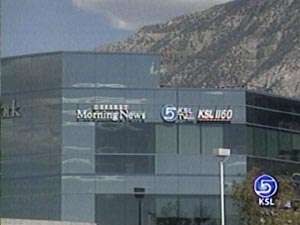 Utah County has the second biggest population of any county in Utah, nearly 400,000 residents. And it's growing fast. Communities such as Saratoga Springs and Eagle Mountain are among the fastest growing in the state and there appears to be no end the building boom.
The quality of life in Utah County has been recognized time and time again, as one of the best places to live and do business in America. Of course, Brigham Young University is the heart of the Utah Valley, not only because of its popular athletic teams, but BYU boasts several nationally recognized programs in education, and BYU employs more people in Utah County than any other entity.
But nearby UVSC continues to grow with record-breaking enrollment figures each year. And UVSC offers more and more degrees and educational opportunities.
Business is also a big part of Utah Valley. From high tech companies, such as Novell, to other smaller technology companies that are making money and employing hundreds of workers. Cabela's, a highly popular outdoor retail company plans to open a store there, which will bring four million visitors a year to Utah County, half of them from out of state.
Utah County also offers numerous recreational opportunities for people all over Utah, from Sundance in Provo Canyon to Utah Lake.
And now with KSL's new location and our partnership with the Deseret Morning News, no other media organization can compete with the caliber and quality of news that Eyewitness News is bringing its viewers in Utah Valley.
We're right in the middle of Utah County, and we're here with the Deseret Morning News and KSL Newsradio working together. In the world of journalism it's the new trend, where TV, radio and print, along with the Internet, work together to gather and report the news. And it's this partnership that will give our viewers, listeners and readers the best possible coverage of news from Utah County.
Our staff of editors, reporters and photographers live in Utah County and are very familiar with the successes and challenges as well as opportunities available in the community.
Our new newsroom is also an important part of Channel Five's coverage of BYU Sports. Each Sunday night, the BYU Coaches Show originates from our Utah County Newsroom and athletes and other newsmakers will come here, for interviews and live broadcasts.
And while Eyewitness News will go to where the news is happening and oftentimes report from the scene, our new location gives KSL and the Deseret Morning News a unique advantage in reporting the news in Utah County.
×