Estimated read time: 1-2 minutes
This archived news story is available only for your personal, non-commercial use. Information in the story may be outdated or superseded by additional information. Reading or replaying the story in its archived form does not constitute a republication of the story.
Tonya Papanikolas ReportingFuneral services for Lance Corporal Cesar Machado-Olmos were held this afternoon in Spanish Fork. He died earlier this month when his Humvee rolled in Iraq.
It was such a sad occasion, but the funeral itself was filled with patriotism, love and a lot of heartache.
After a Spanish speaking ceremony at an LDS church in Spanish Fork, family and friends watched as the coffin of Cesar Machado-Olmos was carried outside. It was draped in a US flag and was surrounded by six marines.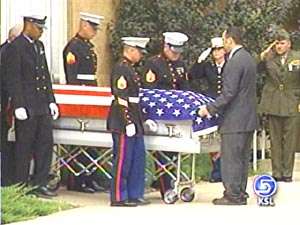 Around 70 veterans lined the street of the ceremony as the funeral procession approached. They saluted in honor of their fellow officer – a man who gave his life for a country he loved, even though he was not a US citizen.
"He could have stayed home. He could have done many things in life. And the reality of things is he did what he wanted to do, which is serve his country."
Major Kirk S. Cordova: "He made an impact, not only on people here in Utah, but on friends and marines, and people around the world. He will be missed by a lot of people."
Fellow soldiers carried Cesar's coffin to a resting place in the cemetery while others gave him a 21-gun salute. The flag on top of the coffin was lifted into the air as the wind blew softly. It was the only thing you could hear as soldiers folded the flag and an officer presented it to Cesar's family.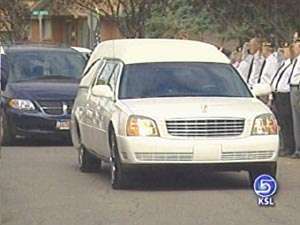 Machado-Olmos was born in Mexico. His family moved to the United States when he was six-years old. He joined the Marines just months after he graduated from high school. This week he would've celebrated his 21st birthday.
×