Estimated read time: 3-4 minutes
This archived news story is available only for your personal, non-commercial use. Information in the story may be outdated or superseded by additional information. Reading or replaying the story in its archived form does not constitute a republication of the story.
WEST JORDAN -- The man accused of shooting a neighbor is going to trial. A judge ruled that there is enough evidence for Reginald Campos to stand trial on attempted murder and aggravated assault charges.
Campos, 43, is charged with attempted murder and two counts of aggravated assault in the July 22 shooting of David Serbeck. Campos has said he shot Serbeck in self-defense.
"I can't say anything about what's happened or anything about the case, but [I'm] very optimistic in, that things will work out and the truth will come out," Campos said while leaving court.
Earlier in the day, we heard the Serbeck's side of the story for the first time. During his testimony, Serbeck said he never displayed his gun and even asked Campos to calm down and talk before Campos shot him in their Bluffdale neighborhood.
Serbeck testified there had been several thefts in the area. He said that the president of the home owner's association, Troy Peterson, had asked him to be a part of the neighborhood watch group.
On the night of the shooting, the two men were driving through the neighborhood to try to figure out why people were being victimized. Serbeck said they were in the lower end of the subdivision when two girls jumped out of the bushes and he swerved to avoid them.
He said he told the girls to be safe going home and just kept driving. The girls went home and Campos' daughter told him they felt the men were stalking them. Campos and his daughter then went looking for Serbeck and Peterson.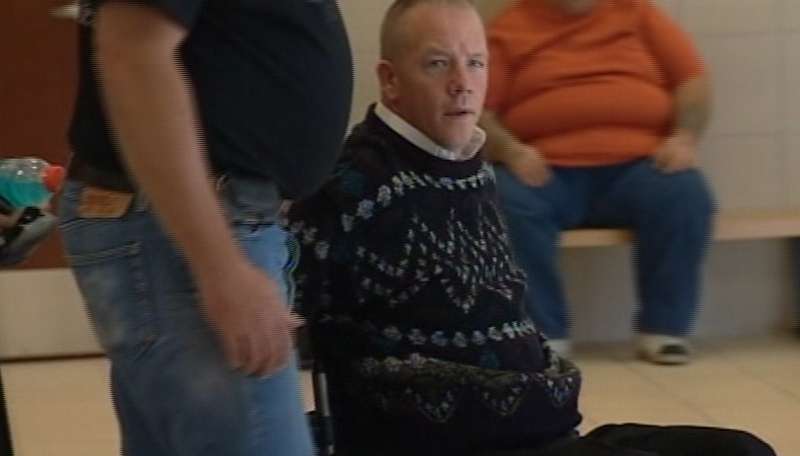 Serbeck said he and Peterson returned home for a short while, then decided to go back out. That's when Serbeck saw a white vehicle suspected in the thefts driving on their street. He said he grabbed his gun -- which was unloaded -- and put it in his center console without Peterson's knowledge.
Serbeck said he was driving east on Iron Horse Boulevard when a car passed him, made a U-turn and slammed on its brakes right in front of his car. He said Campos got out of the car with a gun and told him to put his hands up.
Serbeck testified Campos was angry and demanded to know why Serbeck was following his daughter.
Serbeck said he was standing behind his car door with his gun out of sight. He said he eventually put his gun down and kicked it away.
He said he heard a woman's voice coming from Campos' car screaming "Don't listen to him, he's lying!" Serbeck said Campos then asked him "How stupid do you think I am?" That's when Serbeck heard gunshots.
Campos' attorney, Greg Skordas, maintains his clients innocence.
"I think that it was a horrible thing that happened. Under anybody's definition, it was a horrible tragedy that happened. But to call it a crime? We don't agree with, no," Skordas said.
"You heard it on the stand today: Someone was shot. Someone has been paralyzed from that. That's more than just a he said/she said thing," said prosecutor Nathan Evershed.
In his call to 911, Campos told the dispatcher he shot in self-defense. He said Serbeck pulled a gun on him and racked it.
The shooting left Serbeck in a wheelchair. The bullet severed his spine and paralyzed him from the chest down.
Campos will be back in court Oct. 25.
------
Story compiled with contributions from Sandra Yi and Marc Giauque.
×
Photos
Related stories
Most recent Utah stories