Estimated read time: 2-3 minutes
This archived news story is available only for your personal, non-commercial use. Information in the story may be outdated or superseded by additional information. Reading or replaying the story in its archived form does not constitute a republication of the story.
Kim Johnson ReportingSalt Lake Police are looking for two men who broke into a home and robbed and injured an 85-year old woman. The bandits threw a brick paver from the patio through the back window of the home on Navajo street just after 11:00 last night. Then they invaded the sanctuary of 85-year old Virginia Chamberlain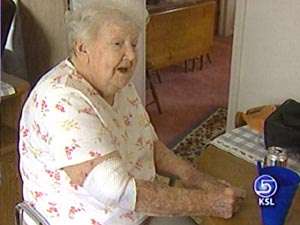 Chamberlain says she was just about to retire for the night when a brick shattered the safety glass in her TV room. Next she saw a leg kick through the broken glass. The intruder was wearing dark pants with an orange stripe and boots. But Chamberlain says she never got a good look at him because he managed to get behind her before the two made eye contact.
Virginia Chamberlain: "He pulled my shirt up. And I was struggling because I couldn't get this arm up. And he kept saying, 'Pull your shirt up. Pull your shirt up.' He says, 'where's your money? Where's your purse?' I said right there on the table."
Chamberlain says the suspect hurt her already injured shoulder and tore the skin off her arms.
Virginia Chamberlain: "I said, 'Don't hurt me.' He said, 'Pull your arm up.' I said, 'You're hurting me.' The skin is so thin on us old people, you know, that it just ripped the skin right off. My son said my chair was just covered with blood."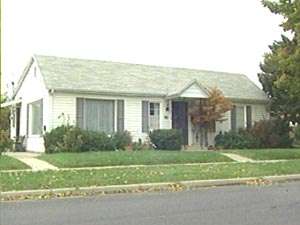 But during the struggle, she says she was pushing her alarm button around her neck, which alerted her son and the police that she was in trouble.
Virginia Chamberlain: "And he didn't know, of course, that I had it on there, until he stepped into the kitchen and saw it sitting on the counter in the kitchen. And he must have had something with him because he cut the wire on the alert box."
After he cut the alarm wires, he pulled the phone lines out. So Chamberlain put on a coat and walked to the neighbors for help.
The suspects got away with Chamberlain's purse, containing a credit card.
Detective Phil Eslinger, Salt Lake Police: "Unfortunately our hope is for them to commit another crime, and to use the credit card, and hopefully in a place where we can get some good video off of it. Because at this point in time we have so little to go on."
This is the fourth time her house has been broken in, but the fiercely independent Mrs. Chamberlain says she's not about to leave, despite what her children say. It's the house her husband was born in and she has lived at 742 Navajo street her entire married life. She loves her neighbors and friends in the area; she wants to stay.
×