Estimated read time: 2-3 minutes
This archived news story is available only for your personal, non-commercial use. Information in the story may be outdated or superseded by additional information. Reading or replaying the story in its archived form does not constitute a republication of the story.
Sandra Yi ReportingPolice are calling last night's Amber Alert a success, even though some are saying the boy was never in danger.
The Amber Alert went out from KSL NewsRadio at 7:50. Less than an hour and a half later, father and son were found. Today the man's family is speaking out, saying the Timothy Martinez they know would never have hurt his son.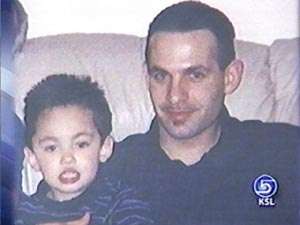 The Amber Alert triggered a statewide manhunt for 22-year old Timothy Martinez. Today Martinez's mother denied her son is a dangerous criminal or a bad father.
Mother: "I believe that Tim would never harm Chaseton, and he would eventually come home."
Last night, police said Martinez drove off with his three-year old son after a fight with his wife. She told police he threatened to hurt the boy, and kill himself.
Sgt. Rosie Rivera, Salt Lake County Sheriff's Office: "In that situation where you have a father saying, 'I'm not going to bring your kid back' or making threats that he's going to kill the kid, the child, that's life threatening to us."
But Martinez's mother says her son is battling depression. He's attempted suicide in the past. She says he made false threats out of desperation.
Mother: "I asked him later, 'Well, Tim, why would you do that?' And he said he wanted to hurt his wife. He wanted her to feel as bad as he feels."
She says Martinez and his wife separated last year. They share custody of Chaseten. In fact, she says, Martinez had his son all day yesterday and wanted to drop him off at his wife's home, but he took off after the fight.
Tim's Mother: "To me, he said, 'Mom, I just took a long drive with Chase to clear my head. That's all that I was really doing."
Martinez eventually drove to his parents' West Jordan home where he is currently living. Police were waiting for him. Now his mother hopes he'll get the help he needs.
Tim's Mother: "But I just know that Tim loves his son more than anybody in the whole wide world, and chase loves Tim very, very much."
Martinez was taken to the hospital for evaluation. He has not been charged with any crime. Meantime, Chaseten's mother issued a statement this afternoon thanking police and the people who called in with information. She credits the Amber Alert for her son's safe return.
×