Estimated read time: 1-2 minutes
This archived news story is available only for your personal, non-commercial use. Information in the story may be outdated or superseded by additional information. Reading or replaying the story in its archived form does not constitute a republication of the story.
DRAPER, Utah (AP/KSL News) -- A New Mexico couple suffered minor injuries when their twin-engine plane crashed on a mountain top near Draper.
Pilot Cordell Akin, 65, of Los Alamos, had a gash on his head and his wife, Rayna Akin, 44, was cut on her hand, said Capt. Michael Jensen of the Unified Fire Authority. Both have been released from the hospital.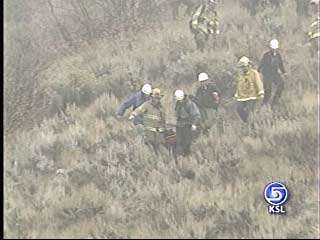 The Cessna 310 was traveling from Boise, Idaho, to Los Alamos when it crashed Monday afternoon near a fog-shrouded ridgetop above a neighborhood in the suburb south of Salt Lake City.
Two neighborhood residents, Bill Holyfield and Scott Romaire, heard the crash and hiked up the ridge. They heard the plane's occupants calling and found the aircraft upside down.
Romaire used his cell phone to guide rescue crews to the site.
"All of the rescuers that I talked to said the hill was slippery and steep. Visibility was between 10 and 20 feet," Jensen said.
Rayna Akin was escorted down by Romaire and rescue workers. Her husband was taken down on a stretcher as a precaution.
"Anytime someone has a gash to the head we would recommend they be carried out as a precaution," Jensen said.
The couple had planned to land at Spanish Fork for refueling.
(Copyright 2004 by The Associated Press. All Rights Reserved. KSL News contributed to this report.)
×