Estimated read time: 1-2 minutes
This archived news story is available only for your personal, non-commercial use. Information in the story may be outdated or superseded by additional information. Reading or replaying the story in its archived form does not constitute a republication of the story.
Samantha Hayes reportingA shooting Wednesday night in West Valley City leaves one dead.
The shooting happened at an apartment complex near 2518 South Lakecrest Drive. Police received the call 8:45pm, and when they arrived on the scene, the victim was already dead from a shot to the head. The victim is believed to be a young man in his late teens, early twenties.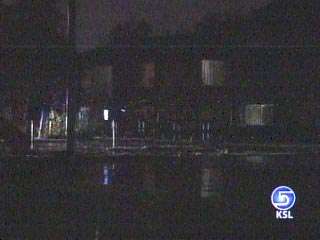 In terms of a suspect, police say they have several strong leads.
The woman who called police was sitting in her apartment when she heard several shots fired.
Renae, witness: "I saw people running over that way towards the scene. That when I got on the phone and dialed it in because, I didn't want anymore shooting to going on before the police got here, because I've got a little girl. I just heard the girl screaming 'Get up, get up!', and I heard a guy yelling and cussing, and raging. I couldn't see much because it is dark in that area. I just saw the crowd, and people gathering around and screaming."
Police believe that the shooting may be the result of gang violence. They say they have been to this neighborhood before for activity like that. They do credit the neighbors for their effort to combat crime in the area.
×