Estimated read time: 2-3 minutes
This archived news story is available only for your personal, non-commercial use. Information in the story may be outdated or superseded by additional information. Reading or replaying the story in its archived form does not constitute a republication of the story.
Sam Penrod ReportingSo you're driving down the road, you're late and you have to make one more phone call. But in the midst of your rush, the phone call is distracting and you nearly get into a wreck. It's a scenario a Utah city says it is going to crack down on.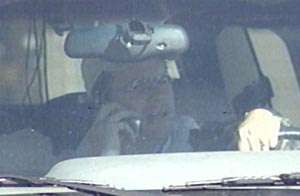 It's something we are all probably guilty of -- talking on the cell phone while we're driving. But now in American Fork, if you run a red light or stop sign and it's because you're talking on the phone, you could get another ticket.
Kirk, American Fork Resident: "I don't know how many people have cut in front of me or something. They don't even know I am there because they are too busy on the cell phone."
Of course drivers talking on a cell phone can be found anywhere in Utah, but now in American Fork it could be costly. The city has passed into law what's being called the cell phone law, but police say it involves anything that can distract drivers.
Sgt. Shauna Greening, American Fork Police Dept.: "It can include putting on makeup, computers, cell phones, eating, watching movies."
Police insist they won't be out patrolling for cell phone drivers, but if you commit a traffic offense or get into an accident while on the phone, expect an extra fine.
Sgt. Shauna Greening: "It's a secondary offense and so there would be a primary moving violation and this would be a secondary offense."
Police say the law is meant to make the city's streets safer, and most drivers seem to agree.
Linda, American Fork Resident: "It's a good thing for safety, it's a good thing for safety, you have kids in the car, don't need to be talking on a cell phone for added distraction."
Kirk: "I know I'm very irritated when I'm driving down the road and people are on their cell phones, they do things they shouldn't, so maybe it will help them not to do those not so bright things."
Fines for being talking on your cell phone if you are driving and distracted can be up to $100. American Fork is the second Utah city to pass this law; a similar law is already in effect in Sandy.
×