Estimated read time: 2-3 minutes
This archived news story is available only for your personal, non-commercial use. Information in the story may be outdated or superseded by additional information. Reading or replaying the story in its archived form does not constitute a republication of the story.
SALT LAKE CITY -- Thousands of Latter-day Saints from around the world have traveled to Utah to be part of General Conference for The Church of Jesus Christ of Latter-day Saints.
Latter-day Saints have come from Africa, Asia, Europe, South America and Australia for this weekend's Semiannual General Conference.
They all say they are looking forward to being with President Thomas S. Monson and other Church leaders inside the Conference Center in Salt Lake City.
"Boy, it's really special 'cause I've never seen the prophet in person, so it's going to be really something. Very emotional for me," said Blanca Basas, who came from Mexico.
Some have leadership meetings Friday, while others have missionary reunions or get-togethers with old friends. Many have traveled from neighboring states.
Stephanie Olsen came from Las Vegas. "My family's been hit really hard with the economic problems that have been going on. My husband was laid off in January, and we're just looking to find peace and comfort in the messages that are here and just be rejuvenated," she said.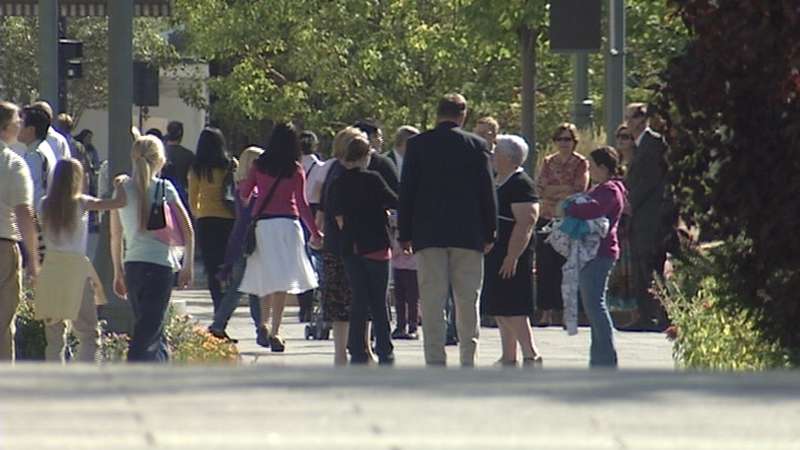 Wolfgang Ruetz had a much longer trip to make. He came to Utah all the way from Switzerland and was excited to see all the construction downtown. He said, "Yeah, we're surprised about all the building, reconstructing and building here. It's amazing."
Since Church leaders are monitoring clean-up efforts in Samoa and Indonesia, some will likely mention the devastating earthquakes and tsunamis as well.
Conference sessions begin Saturday at 10 a.m. and 2 p.m. They will continue Sunday at the same times.
The Salt Lake City Police Department is expecting more than 100,000 people to flood the downtown area. Officers will close off North Temple between Main Street and West Temple for 30 minutes at the end of each conference session in order to facilitate the coming and going of those attending conference.
If you do not have tickets to the Conference Center, tune into KSL 5 and KSL.com for live broadcasts of the sessions.
E-mail: cmikita@ksl.com
×
Related stories
Most recent Utah stories