Estimated read time: 3-4 minutes

This archived news story is available only for your personal, non-commercial use. Information in the story may be outdated or superseded by additional information. Reading or replaying the story in its archived form does not constitute a republication of the story.

SANDY -- Any parent who's ever had to help their kids cope with serious food allergies knows what a challenge it can be, but there is growing support and awareness, and a first-time event in Utah on Saturday.

A food allergy is an immune system response to a food that the body mistakenly believes is harmful. The immune system creates antibodies to the specific food and the next time the individual eats that food, the immune system releases massive amounts of chemicals, including histamine, in order to protect the body. These chemicals trigger allergic symptoms that can affect the respiratory system, gastrointestinal tract, skin, or cardiovascular system. Individuals can be allergic to any food. Scientists estimate that approximately 12 million Americans suffer from true food allergies. *[- Utah Food Allergy Network](http://www.utahfoodallergy.org/)*

Food allergies in kids are on the rise. Why? There are few answers. When Michelle Foog discovered her daughter Emalee had food allergies, it was traumatic. She said she was always concerned that her daughter would eat something that would make her sick.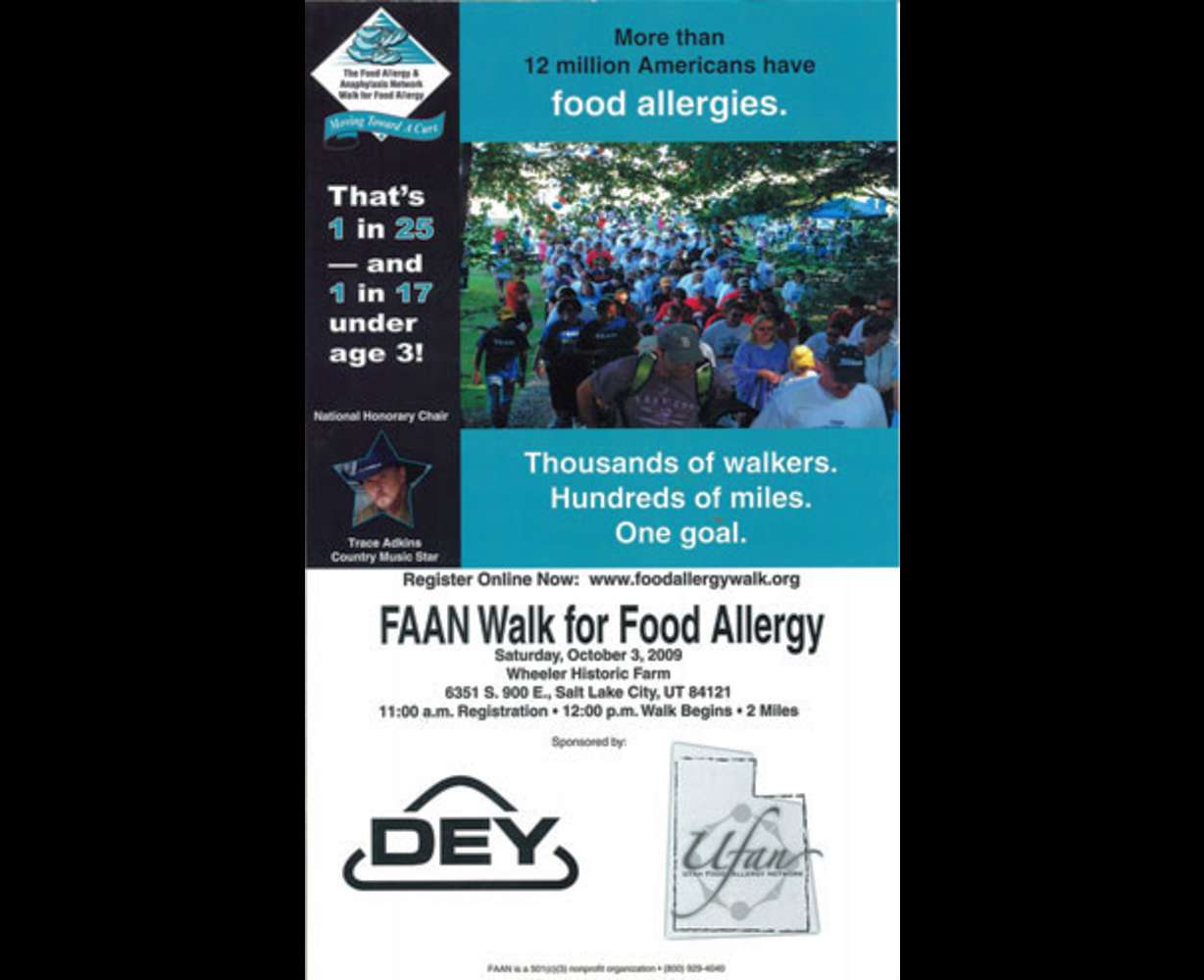 Emalee gets a bad rash from eggs and milk, and mustard gives her horrible hives. Peanuts and tree nuts are also on the list. Today, they're baking cookies Emalee can eat, using applesauce or flaxseed instead of eggs.

Emalee just started kindergarten and sure wishes she did not have allergies. Her mom, who founded the Utah Food Allergies Network, sends her off to school with an EpiPen, an emergency card and her own snacks.

Foog said, "Not a lot of people understand the severity or the life impact that it has on families when they have to completely take foods out of their home."

According to the Centers for Disease Control and Prevention, 6 percent of kids have food allergies; a 20 percent rise in the last decade.

Dr. Richard W. Hendershot, an adult and pediatric allergist, explained, "Food allergy is real and, for those kids who have it, it can be really scary."

Hendershot said there was hope for children like Emalee. He said, "Now there's a new study showing that we might be able to desensitize her and do some tolerance in these kids. So, we might have a real treatment beyond avoidance coming up in the next several years."

Foog founded Utah Food Allergy Network, or UFAN, a couple of years ago. This weekend, in coordination with the national network, UFAN will hold its first walk and fair at Wheeler Farm to raise money for a cure.

**Most common food allergies**

- Milk - Egg - Peanut - Tree nut (walnut, cashew, etc.) - Fish - Shellfish - Soy - Wheat

"They can meet other kids who have food allergies just like them and make friends," she said. "They can see they're not alone. That's the biggest thing: knowing you're not alone in this." The UFAN gathering starts at Wheeler Farm Saturday at 11 a.m., followed by the walk at noon. People can share recipes, lessons learned and physician referrals. The kids will also make new friends and enjoy snacks they can all eat.

E-mail: jboal@ksl.com

×
Related links
Most recent Utah stories