Estimated read time: 2-3 minutes
This archived news story is available only for your personal, non-commercial use. Information in the story may be outdated or superseded by additional information. Reading or replaying the story in its archived form does not constitute a republication of the story.
SALT LAKE CITY -- Supporters of a citizens' initiative aimed at reforming ethics rules on Utah's Capitol Hill began gathering signatures Thursday.
The goal is to gather 95,000 signatures by April to put it on the ballot next fall, but the group Utahns for Ethical Government believes state law may allow them to bring it to the legislature before that, for a vote. If passed, it would create a non-partisan ethics commission, ban gifts to lawmakers, ban personal use of campaign funds and cap campaign donations.
Phyllis Sorensen is one of those behind the effort. "I think it's long overdue. I think it's something that has to be done for the integrity of government in this state," she said.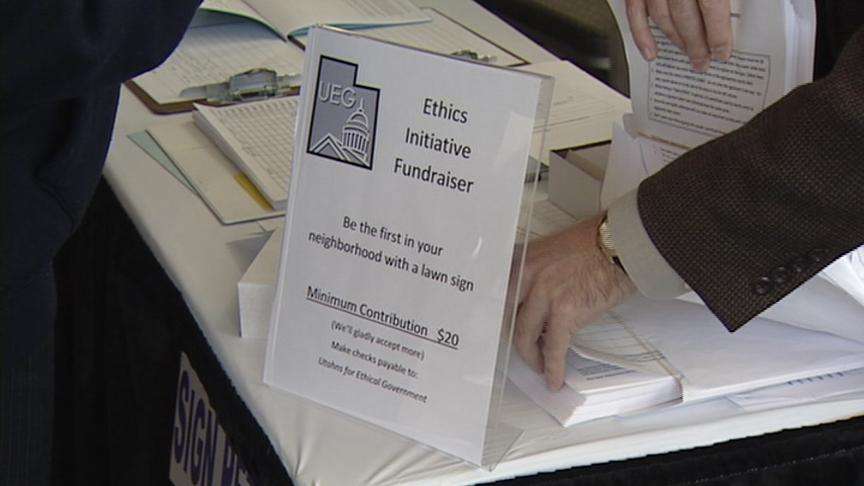 She is not alone. Lisa Nielsen said those running the state need to be held accountable.
"I just think the legislators should be representing the people, not the corporations that give them money," she said.
Ralph Wakley agreed. He spent the day gathering signatures for that very reason.
"I felt like something had to be done, that the citizens needed to be the ones who run the legislature," he said.
Though the effort began at the convention for the Utah Education Association and includes some veterans of the fight over school vouchers, organizers said their coalition is broad-based, with support from the League of Women Voters and AARP.
Kim Burningham is the chair of Utahns for Ethical Government. "To say it's all UEA, or all the voucher people is not true and it is in error. We have whole organizations that are new to this effort," she said.
Backers of the ethics petition said there's a provision in the law which allows them to bring this issue directly to state lawmakers in the next legislative session, if they're able to gather 48,000 signatures by Nov. 15. However, the Utah Lieutenant Governor's Office doesn't see it that way. They think it's an open legal question.
If the November option fails, the group plans to gather 95,000 signatures by next spring to put it on the ballot next fall.
"We will make sure we have the number of signatures by the April 15th deadline," said Burningham.
E-mail: jdaley@ksl.com
×
Related links
Most recent Utah stories